A Few Random Thoughts on Brexit and Europe
By Rupert Graf Strachwitz.
N. B. These thoughts reflect the author's ongo­ing despair over the out­come of the ref­er­en­dum of June 23rd, and his con­vic­tion that every­body should give this some thought and speak his and her mind. They are strict­ly per­son­al and nei­ther final nor com­pre­hen­sive, nor nec­es­sar­i­ly orig­i­nal, but may be shared with any­body ad lib.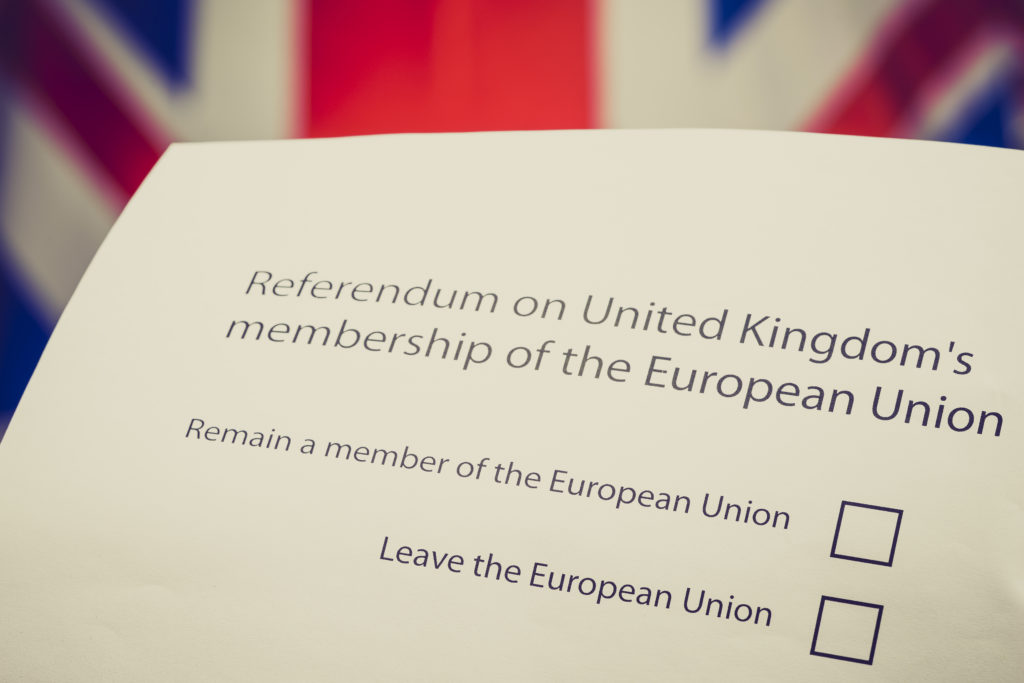 As the dust caused by the explo­sion on 23rd June is begin­ning to set­tle, we can start pick­ing up the debris to see what may pos­si­bly be sal­vaged from the dis­as­ter. It is still much too soon to tell what the final out­come of the ref­er­en­dum will be, which was direct­ed at West­min­ster, not at Brus­sels. Prob­a­bly, Britain will leave the EU, but con­trary to what the politi­cians are present­ly say­ing in pub­lic, I still believe there is a chance the UK gov­ern­ment will find a way nev­er to send the let­ter required by arti­cle 50 of the Lis­bon Treaty and will thus either for­mal­ly or tac­it­ly not do what a very slim and obvi­ous­ly bad­ly informed major­i­ty vot­ed for. It would be the sen­si­ble thing to do. But it will need courage.
For the moment, we are remind­ed of four peo­ple in a car going down a one way street, who agree by a major­i­ty of three to one to turn around. This, while beau­ti­ful­ly demo­c­ra­t­ic, is still stu­pid. Why, if not for keep­ing us from mak­ing such stu­pid deci­sions, do we go through the immense­ly cum­ber­some pro­ce­dure of elect­ing polit­i­cal lead­ers? How come they dare throw an issue like that back at their prin­ci­pals and lie to them about the facts, when it becomes too sticky for them to sort out, while pock­et­ing a more than hand­some reward for act­ing as our agents? What the peo­ple want is coura­geous lead­ers who lead and don't fol­low cam­paigns with ulte­ri­or motives that drum up pub­lic opinion.
Why did all this come about?
David Cameron's gov­ern­ment showed a hor­rif­ic lack of lead­er­ship. But …
Fun­da­men­tal­ly, the out­come of the ref­er­en­dum is the inevitable result of many decades of refus­ing to come to terms with the mod­ern world and Britain's role in it. As close as one may feel to one's country's glo­ri­ous past, there is no way one can get round let­ting bygones be bygones and look­ing ahead.
The stan­dards of pol­i­tics and pub­lic ser­vice have dete­ri­o­rat­ed every­where in Europe. Sleezy par­ty politi­cians and insen­si­tive civ­il ser­vants have let the notion of a state fall into dis­re­pute. Checks and bal­ances no longer work. For many, democ­ra­cy has become an absurd game.
No Euro­pean politi­cian seems to real­ize we are in the mid­dle of a fun­da­men­tal cri­sis of West­ern-style democ­ra­cy. An increas­ing num­ber of busi­ness lead­ers see Chi­na as a valid post-demo­c­ra­t­ic option, afford­ing them more influence.
Strange­ly, many peo­ple are full of Angst and suc­cumb to any­one who promis­es authority.
In the run-up to the ref­er­en­dum, a bunch of shock­ing­ly irre­spon­si­ble politi­cians lied to the voters.
Nobody seemed to notice that the Leave camp did not have even the sketchi­est of plans what to do in case of victory.
The Remain cam­paign had all the argu­ments, but no con­vic­tion or mission.
What does this mean for Europe?
The Unit­ed King­dom will prob­a­bly break up. This will be impor­tant for Scot­land; for North­ern Ire­land, it will be dra­mat­ic. For oth­ers, it will set an example.
Europe will miss the prag­mat­ic, expe­ri­enced, and well-infomed voic­es of Britons in shap­ing the future of Europe.
Trust in politi­cians any­where in Europe has reached an all-time low. Trust leaves on a horse, but arrives on foot.
Europe has lost its pres­tige in the world. It is no longer the con­ti­nent that sets the stan­dards, but one that can­not get its act together.
The Euro­pean Union, for years to come, and to its detri­ment and cha­grin, will have to deal with Brex­it rather than get­ting on with its far more urgent business.
What may be the bright side?
Britons are now forced to dis­cuss and final­ly decide what Britain should look like in this cen­tu­ry, rather than con­tin­u­ing in the after­math of bat­tles won in the 20th.
If Britain does choose to remain, she will have to behave herself.
All over Europe, includ­ing the UK, civ­il soci­ety and indi­vid­ual cit­i­zens are begin­ning to think for them­selves. Rather than see­ing the Euro­pean Union as the worst pos­si­ble solu­tion bar the oth­ers, they take pride in this unique ven­ture of shap­ing their future together.
With­in the EU, the bal­ance of pow­er will be reframed. As the treaty stands, it is the 28 nation­al gov­ern­ments that make up the Coun­cil who are in the driver's seat, and while nei­ther the Com­mis­sion nor the Euro­pean Par­lia­ment should ques­tion that, the Coun­cil may begin to accept the respon­si­bil­i­ty and pledge to be loy­al to the Union rather than to ist mem­bers. Hope­ful­ly, palm­ing any­thing that is uncom­fort­able off on to the Com­mis­sion and then blam­ing it for mak­ing unnec­es­sary rules, will slow­ly come to an end.
What should we think about?
We must take the Euro­pean project out of the hands of econ­o­mists, lawyers and reg­u­la­tors. What Europe needs is a vision, not ever more com­pli­cat­ed rules and polit­i­cal com­pro­mise. There is no need to har­mo­nize more and more details of people's dai­ly lives. We want a var­ied and colour­ful Europe.
We need to take into account that Euro­pean Civ­il Soci­ety has gained strength and pow­er and is cur­rent­ly gain­ing momen­tum. 21st cen­tu­ry soci­ety will be built on a func­tion­ing divi­sion of respon­si­bil­i­ties and checks and bal­ances sys­tem between civ­il soci­ety, the state and the market.
We must shape the notion of a Euro­pean demos. By def­i­n­i­tion, this will be ultra­na­tion­al and will entail com­plex arrange­ments of mixed loy­al­ties to fam­i­ly and friends, seg­ments of civ­il soci­ety, and mul­ti­ple gov­ern­men­tal structures.
Europe's intel­lec­tu­al elites must think what a Euro­pean gov­ern­men­tal struc­ture could even­tu­al­ly look like. Europe will not be the Unit­ed States of Europe built on the the­o­ry of the Unit­ed States of Amer­i­ca in the 18th, nor a Union of Sov­er­eign States like the Ger­man Con­fed­er­a­tion in the 19th It could well be the Unit­ed Regions of Europe, which would ease ten­sions between the small­er and the larg­er EU mem­ber states, or it could be some­thing quite new. We need lots of pro­pos­als on the table to dis­cuss. At the moment, we have none.
If the Scots decide to end the Union with Eng­land, the EU must offer them as quick and easy a Remain scheme as pos­si­ble. The same goes for oth­er regions.
Per­haps some of the present EU mem­ber states will take longer than oth­ers to join the new Europe. We will need to devise a road map.
Ger­many is now in the uncom­fort­able posi­tion of hav­ing to assume a rather soli­tary lead­er­ship role, for which the gov­ern­ment, let alone the cit­i­zen­ry is nei­ther well pre­pared nor well suit­ed. Yet, Germany's geog­ra­phy and size, the strength of its econ­o­my, and, in com­par­a­tive terms, its polit­i­cal sta­bil­i­ty all seem to sug­gest this. We can only hope the Ger­man gov­ern­ment will con­tin­ue to act with extreme pru­dence and cau­tion. In a sense, the way the gov­ern­ment han­dled last year's refugee cri­sis has become Germany's entry tick­et to the glob­al vil­lage. Ger­many, for the first time in his­to­ry, has become an immi­grant soci­ety – like the rest of Europe.
There is no alter­na­tive but to get on with build­ing the Com­mon House of Europe. This will have to be achieved by the cit­i­zens bot­tom-up, and with the help of com­mit­ted and hon­est lead­ers. We have noth­ing else to offer to our chil­dren and grand­chil­dren. And what is most impor­tant: It will be a great place to live in!
–
Rupert Graf Stra­ch­witz is half-Ger­man and half-Eng­lish, and lives in Berlin. He is a polit­i­cal sci­en­tist and his­to­ri­an by train­ing and has spent most of his many years of pro­fes­sion­al life as a prac­ti­tion­er, con­sul­tant, and aca­d­e­m­ic in, with, and about Civ­il Soci­ety and Phil­an­thropy. He is Direc­tor of the Mae­ce­na­ta Foun­da­tion and pub­lished 'No Brex­it – Why Britain Belongs in the Euro­pean Union' in 2015.
Dis­claimer
The views and opin­ions expressed in this arti­cle are those of the author.
–
Pic­ture: UK ref­er­en­dum on EU Mem­ber­ship — bal­lot paper. © Euro­pean Union 2016 — Source: EP.