The German Council on Foreign Relations (DGAP),
the Open Society European Policy Institute (OSEPI) and
d|part – Think Tank for Political Participation
invite you to a joint event
Voic­es on Val­ues: How Euro­pean Publics and Pol­i­cy Actors Val­ue an Open Society
Tuesday, 19 February 2019, 1:15–5:00 pm
Ger­man Coun­cil on For­eign Relations
Rauch­str. 17, 10787 Berlin
In the run-up of the 2019 Euro­pean Par­lia­ment elec­tion, polit­i­cal lead­ers across Europe have been fuelling con­tro­ver­sial dis­cus­sions. Lead­ers such as French Pres­i­dent Emmanuel Macron and Hungary's Prime Min­is­ter Vik­tor Orbán are pre­sent­ing dia­met­ri­cal­ly opposed ideas of the future of the EU, divid­ing opin­ions on whether to inte­grate it fur­ther or to pri­or­i­tize nation-states. They each argue with vary­ing inter­pre­ta­tions of alleged­ly Euro­pean val­ues. How­ev­er, what the peo­ple across the EU actu­al­ly think is less clear. Do they still cher­ish val­ues such as free­dom of expres­sion, respect for minori­ties, and the rule of law? If giv­en the choice, would they pri­or­i­tize them over eco­nom­ic pros­per­i­ty and polit­i­cal stability?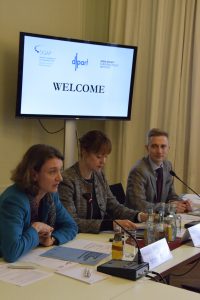 At this event, we will present empir­i­cal find­ings from a six-coun­try sur­vey study (Ger­many, France, Poland, Hun­gary, Italy and Greece). The Voic­es on Val­ues project by OSEPI and d|part debunks many com­mon­ly-held per­cep­tions. By engag­ing pol­i­cy-mak­ers and civ­il soci­ety lead­ers in all six coun­tries and in Brus­sels, the project also gauges how well shapers of pol­i­cy process­es actu­al­ly under­stand the public's con­cerns. The study demon­strates that in real­i­ty, pub­lic per­cep­tions of val­ues are not as polar­ized as polit­i­cal dis­cours­es and Euro­pean lead­ers' rhetoric would have us believe. Con­trary to com­mon assump­tions, most Euro­peans sup­port the core val­ues under­ly­ing an open society.
We will dis­cuss the impli­ca­tions of this research for the future of the EU, the role of orga­nized civ­il soci­eties, and how polit­i­cal actors should respond going forward.
The find­ings will be pre­sent­ed by OSEPI's Direc­tor Heather Grabbe and d|part's Jan Eich­horn who coor­di­nat­ed the study. We will dis­cuss the results with Daniela Schwarz­er, Direc­tor of DGAP, as well as experts from sev­er­al of the sur­veyed coun­tries.
The event will be held in Eng­lish. Please RSVP by email or fax (events@dgap.org, +49 (0)30 25 42 31 91).
Fol­low­ing the event, there will be a pre­sen­ta­tion of the Ger­man coun­try study as well as a pub­lic dis­cus­sion in Ger­man (with simul­ta­ne­ous Eng­lish trans­la­tion avail­able). Par­tic­i­pants are wel­come to join this pre­sen­ta­tion as well, but are kind­ly asked to men­tion their par­tic­i­pa­tion explic­it­ly in the reg­is­tra­tion email or fax.
AGENDA
1:15 pm Arrival, Reg­is­tra­tion and Light Lunch
1:45 pm Pre­sen­ta­tion of Results from the Voic­es on Val­ues Research
Heather Grabbe, OSEPI

Jan Eich­horn, d|part
2:20 pm Ini­tial Dis­cus­sion of Results
2:30 pm Dis­cus­sion of Results with Participants
3:30 pm Cof­fee and Tea
3:30–4:45 pm The­mat­ic Dis­cus­sions with Coun­try Experts, includ­ing:
Bulc­sú Hun­ya­di, Senior Ana­lyst at Polit­i­cal Cap­i­tal (Hun­gary)

Fil­ip Pazder­s­ki, Pol­i­cy Ana­lyst at Insti­tute of Pub­lic Affairs (Poland)
4:45–5:00 pm Close