Nobody ever talks about the diversity in German politics
By Lena Herbst.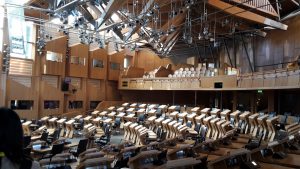 For most Germans politics happens in Berlin. And Berlin is far away. Most people experience federal politics, the actors involved or the daily lives struggles of MPs, national leaders and people working in politics in Berlin through TV news and newspapers. During my internship at d|part I got to experience Berlin´s political scene in person. As I attended briefings, conferences and political events, I did not only meet a great variety of people. I also learned that there are lots of different actors and organisations on the Berlin political scene and that there is a wide range of jobs in the political landscape to pick from. In this blog I will share some of my impressions. So, if you're interested in getting to know why I think German politics is more diverse than it might seem, keep on reading!
#1 – Not everyone is male and 49.4 years old
Statistics show that the average German politician is 49.4  years old and male. And looking around who's in politics, that might seem a fairly accurate description.
Yet, looking at all the people interested and active in politics in German, I found that the scene is much more diverse. During my internship at d|part I attended different kinds of political events and got to work with a range of political actors. Through this work, I met a variety of individuals. Whether it is in terms of age, gender, political orientation or interests, the people who work in politics in Berlin are more diverse than it often seems.
There was this one guy working in IT, for example. He was about 25 years old and, at a conference on civic participation, he was talking passionately about a new IT analysis tool. This tool allows administrators to find the people interested in political participation and target them to improve the communication with civil society. I was not the only one in the audience, who was entirely lost in his explanation of the technical details. Nevertheless, everyone was fascinated by the man's passion, his way of targeting the communication problems from a technical perspective and the benefits the tool can bring.
In another instance, an elderly woman stood out at a conference on migration and integration. She got up from her seat in the middle of a podium discussion with a state minister to ask how – and not whether! – she can help to improve the situation of refugees and migrants in Germany. Both cases show that everyone can at least do his or her part, however small, to participate in the political process.
#2 – Berlin politics hosts a variety of actors and interests
It is not only the people in Berlin politics, who are diverse. I also noticed a wide variety of organisational actors. As the German Bundestag got bigger after the last election, more political parties, and therefore more interests, are represented in parliament. Naturally, different people also bring different interests to the table. As I attended events organised by political foundations I noticed what influence they have on the actions of their associated parties. But they are not the only ones active in Berlin politics. With international organisations, NGOs and lobbyists many actors can be found taking part in the political process.
What I found remarkable was that the German Bundestag itself can be seen as a little village with its own bureaucracy and structure. For one day of my internship I shadowed an MP (who was exactly 49.4 years old and male!). When we had lunch in the cafeteria shared with the public broadcaster, ZDF, I noticed the hurry the politicians were in. I decided that I am not jealous of their 60+-hour work weeks and therefore would not go on to pursue a career as a politician (although it is really important that someone else does!). But to my surprise I realised that I don´t have to, even if I want to work in Berlin politics. There are many jobs I can pick from! Speaking of that, it is important to mention the work done by think tanks, independent research institutes who stand between the theoretical, academic research in universities and the practice-orientated corporate governance on the market. Also, in many organisations the nine-to-five job has been replaced by flexible work hours and output orientated approaches, which are exactly some of the features of the work in think tanks and many more.
#3 – The tasks in Berlin politics are manifold
In all kinds of jobs, it is important to not only think about the task at hand, but to develop skills beyond your immediate role. This seems ever more important in Berlin politics. There are so many facets of the work! For example, it is not only about writing briefings all day long. In order to talk about studies, research results and issues on the political agenda, and also connect to future supporters, you need networking skills. Wherever I went – political events, briefings or conferences – I saw people exchanging business cards, doing small talk and networking. The work itself in the political scene varies immensely, depending on whether you work in academic research, journalism, or actually politics. But in all areas you need to adopt quickly to not lose connections, think out of the box and be creative.
My conclusion: There is space for everyone in Berlin politics
Whether it is by being an activist, writing about controversial issues, the daily business in the political process with meetings, lobbying and decision making, or by just being interested in politics in general, everyone can find their niche in Berlin politics. Maybe sometimes the way people behave in the political scene is not straightforward, but it is these little things that make our political system unique. And we can be proud to have a diverse setting of political actors, structures, organisations, and fields of activity.
—
Lena Herbst was an intern at d|part in 2018. While working on projects such as our youth voting study and The Situation Room, Lena also vigorously toured Berlin's political scene. She went from conference to breakfast briefing and even shadowed an MP for a day in parliament! In this piece, Lena shares her impressions from her excursions into the heart of German politics.
Disclaimer
The views and opinions expressed in this article are those of the author.