The anti-immigrant rhetoric of the far-right movements in Italy and its consequences
By Fed­eri­co Quadrel­li.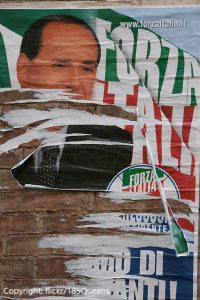 Over the past four years, Italy has seen a sig­nif­i­cant increase in hate speech and hate crimes against migrants and asy­lum seek­ers. This devel­op­ment is con­nect­ed to the rise of far-right move­ments and par­ties, which aim to restore nation­al sov­er­eign­ty through exclu­sion, the lim­i­ta­tion of the free­dom of move­ment, and a strong anti-Euro­pean approach. The nar­ra­tive they espouse exac­er­bates the neg­a­tive per­cep­tions of migrants among "ordi­nary peo­ple" (Berg­er and Luck­mann, 1966) and is reshap­ing our idea of soci­ety around the old "inside/outside" dichoto­my. In this arti­cle, I explain why the anti-immi­grant rhetoric of the far right pos­es such a grave threat to Italy's open society.
The rise of far-right move­ments and par­ties in Italy: An overview
The polit­i­cal land­scape in Italy is quite com­pli­cat­ed. Ital­ian pol­i­tics has since decades been char­ac­terised by a strong insta­bil­i­ty of insti­tu­tions and polit­i­cal par­ties, espe­cial­ly after the crash of the old polit­i­cal sys­tem in the nineties.
The for­mer seces­sion­ist group of Lega Nord, today just Lega, rep­re­sents the old­est par­ty in the Ital­ian par­lia­ment (Bior­cio, 1994; Tam­bi­ni, 2001). After its worst ever elec­toral per­for­mance, at the gen­er­al elec­tion in 2013, a change hap­pened in the Lega Nord. Mat­teo Salvi­ni, the new leader of the par­ty, aban­doned the tra­di­tion­al seces­sion­ist nar­ra­tive based on the dis­tinc­tion between a pro­duc­tive and wealthy Ital­ian north and the unpro­duc­tive, par­a­sitic Ital­ian south, in favour of an anti-Euro­pean and anti-immi­grant dis­course. He turned Lega Nord into the strongest nation­al­is­tic par­ty in Italy, estab­lish­ing elec­toral deals at the local lev­el with far-right move­ments such as Forza Nuo­va (FN) and Cas­a­pound (CP), which are col­lect­ing unex­pect­ed wins in some part of Italy.
Salvi­ni began a strong cam­paign with anti-immi­grant and anti-Euro­pean slo­gans dur­ing the Euro­pean elec­tion of 2014, reach­ing 6 per­cent and being elect­ed as Mem­ber of the Euro­pean Par­lia­ment. The nation­al­is­tic and anti-immi­grant pro­pa­gan­da was strength­ened for the region­al elec­tions of 2015 when the par­ty elect­ed two gov­er­nors in the North, and the com­mu­nal elec­tions of 2016 col­lect­ing wins in many major cities in the north and in the mid­dle of Italy. He trav­elled across the coun­try, per­formed on tele­vi­sion, where he was, and still is, an habitué, argu­ing that migrants are steal­ing job posi­tions from Ital­ians, that they are com­mit­ting crimes, espe­cial­ly sex­u­al assaults against women, and that they are unwill­ing to respect our rules and val­ues try­ing to over­come our cul­ture and traditions.
The effect of the anti-immi­grant rhetoric
Did this anti-immi­grant rhetoric pro­duce a change in the way ordi­nary peo­ple under­stand soci­ety and the val­ues that char­ac­terise it? Did a spe­cif­ic way of polit­i­cal com­mu­ni­ca­tion influ­ence peo­ple in the way they per­ceive the "oth­er" and "them­selves"? In order to answer to those ques­tions, I wish to present and dis­cuss some pecu­liar cas­es and the reac­tions registered.
The first case is the aggres­sion per­pet­u­at­ed by a neo-fascis­tic group in Tus­cany against a catholic Priest, who host­ed a group of immi­grants and inte­grat­ed them in the activ­i­ties of the local church. In sum­mer, after an eight-hour day job, the priest decid­ed to bring the migrants to a local swim­ming pool. It became a nation­al case, with Mat­teo Salvi­ni shout­ing and labelling him "anti-ital­ian Priest". The far right move­ment began a strong cam­paign against the Priest, accus­ing him of dis­re­spect­ing work­ing ital­ian peo­ple that have no oppor­tu­ni­ty to go swim­ming in a pri­vate pool. Mat­teo Salvi­ni too, twit­tered against him. A local neo-fascis­tic group threat­ened the Priest with an offi­cial state­ment: "we will con­trol how the Priest will do his activ­i­ties" and "he will respect the catholic doc­trine dur­ing the ceremonies".
The sec­ond case is the shoot­ing in Mac­er­a­ta oper­at­ed by a far right extrem­ist and can­di­date for the local elec­tion with the Lega Nord par­ty. In the shoot­ing, six immi­grants were severe­ly injured. The per­pe­tra­tor ran away dress­ing an Ital­ian flag and per­form­ing the roman greet­ing. The Ital­ian police dis­cov­ered in his home doc­u­ments and objects cel­e­brat­ing the fas­cist peri­od and a copy of Hitler's "Mein Kampf".
Accord­ing to Left-Avven­i­men­ti, those are just two pecu­liar cas­es that showed what the anti-immi­grant rhetoric pro­duced. Lunar­ia, an Ital­ian NGO, released a report explain­ing that the num­ber of aggres­sions, hate demon­stra­tions and speech­es have dra­mat­i­cal­ly risen: between 2007 and 2016, 5369 cas­es of vio­lence, aggres­sion, mur­der and pro­pa­gan­da based on xenophobia.
This is not per se an indi­ca­tor of what is hap­pen­ing in the "bel­ly of the soci­ety". How­ev­er, what is shock­ing is the way a great num­ber of peo­ple react­ed to those phe­nom­e­na of vio­lence and hate. The idea that some red lines can be crossed, is today, seen as "pos­si­ble" and jus­ti­fied, some­times. Some peo­ple have there­fore resort­ed to pub­lic sol­i­dar­i­ty demon­stra­tions for those who threat­ened the priest as well as for the man who injured six immi­grants, will­ing to pro­tect the inter­ests of the Ital­ian peo­ple. The idea of many peo­ple is that those aggres­sors pro­tect our rights, iden­ti­ty and val­ues, tak­ing care of Italy and our nation. A con­crete exam­ple of that gen­er­al feel­ing came from the results of the gen­er­al elec­tion. In Mac­er­a­ta, for instance, the Lega reached 21 per­cent and on the nation­al lev­el col­lect­ed a remark­able result of 17.6 per­cent, just 1 per­cent behind the Demo­c­ra­t­ic Par­ty (PD).
Con­clu­sion
Who counts as insid­er and who counts as out­sider? This, today, appears to be a key theme. Our soci­ety is turn­ing towards an old dichoto­my. One could argue that we are return­ing to a time of exclu­sion, sep­a­ra­tion, and dis­tinc­tion, based on the def­i­n­i­tion of who deserves to be includ­ed and who should be exclud­ed from our soci­ety. The per­cep­tion of the oth­er as an ene­my is not new (cfr. Schmidt, 1932). Pol­i­tics and civ­il soci­ety should under­stand the dan­ger rep­re­sent­ed by the rise of far-right move­ments and their insti­tu­tion­al­i­sa­tion through every-day-life prac­tices, media, and polit­i­cal dis­course. It is a dan­ger for the cohe­sion of our soci­ety. We should inves­ti­gate more ade­quate­ly what the effects of hate speech and polit­i­cal pro­pa­gan­da against minori­ties and immi­grants are and what can be done to counter it.
–
Fed­eri­co Quadrel­li is a Research Fel­low at CILD.
Dis­claimer
The views and opin­ions expressed in this arti­cle are those of the author.
–
Berg­er P.L., Luck­mann, T., (1966) The social con­struc­tion of real­i­ty: a treaty in the soci­ol­o­gy of Knowl­edge, Anchor Books, New York.
Bior­cio, R. (1993) "Nel ven­tre del­la Lega" in: Il Manifesto.
Schimdt, C., (1932) Der Begriff des Poli­tis­chen, Dunck­er und Hum­blot, Berlin.
Tam­bi­ni D., (2001) Nation­al­ism in Ital­ian pol­i­tics: the sto­ries of the North­ern League, 1980–2000, Rout­ledge, London.