Divided, but not tearing each other apart
By Mag­a­li Mohr.
Young peo­ple in Ger­many are polarised in their sup­port or rejec­tion of the open soci­ety, accord­ing to research by the Open Soci­ety Euro­pean Pol­i­cy Insti­tute and d|part.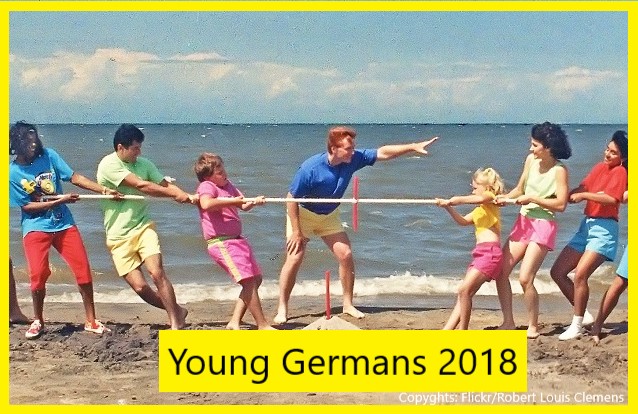 Young peo­ple in Ger­many project con­tra­dic­to­ry images. On the one hand, they are said to val­ue sta­bil­i­ty, on the oth­er they are seen as pas­sion­ate progressives.
The prag­mat­ic "Merkel gen­er­a­tion" in adult­hood has known only one chan­cel­lor, and sur­veys and media reg­u­lar­ly por­tray a yearn­ing for sta­bil­i­ty and order. Unlike pre­vi­ous gen­er­a­tions, they seek nor­mal­i­ty and main­stream val­ues. They want to fit in (Calm­bach et al. 2016:475).
At the same time, they are strong advo­cates of open­ness, tol­er­ance and the Willkom­men­skul­tur towards immi­grants. When hun­dreds of thou­sands of asy­lum-seek­ers arrived in Ger­many in the sum­mer of 2015, young Ger­mans made up the largest num­bers of vol­un­teers (Karakay­ali & Kleist, 2016:12–13). Few of them appear to be attract­ed to nation­al­ism or patri­o­tism (Calm­bach et al. 2016:472), and they are more wary of xeno­pho­bia than immigration.
What do these con­tra­dic­tions mean for the open soci­ety? Are there two dis­tinct groups of young Ger­mans, each with their own views? Or is this a deeply divid­ed gen­er­a­tion? Our Voic­es on Val­ues sur­vey looks at the val­ues of the under-25-year-olds to shed light on this appar­ent paradox.
Peo­ple in the sur­vey were asked which attrib­ut­es were more, less or equal­ly impor­tant to what they con­sid­ered a good soci­ety. They were also asked to trade off 14 attrib­ut­es usu­al­ly con­sid­ered to be those of an open soci­ety – free­dom of reli­gion, free­dom of expres­sion, pro­tec­tion of minor­i­ty rights – for 14 items that might restrict these free­doms – social cohe­sion, polit­i­cal sta­bil­i­ty, eco­nom­ic well-being.
Divid­ed but not split asunder
Exam­in­ing how Ger­mans of all ages respond­ed to these trade-off ques­tions we found that those aged 18 to 24 appeared divid­ed but not to the point of being torn asun­der. Groups of young peo­ple appar­ent­ly have dis­tinct views on the open soci­ety. Some 39 per­cent of 18-to-24-year-olds refuse to trade off open soci­ety attrib­ut­es. They believe in val­ues like free­dom of expres­sion and the pro­tec­tion of minori­ties. Some 36 per­cent, how­ev­er, are con­sis­tent­ly in favour of poli­cies pro­mot­ing social cohe­sion, polit­i­cal sta­bil­i­ty and eco­nom­ic well­be­ing, when hav­ing to choose against increased migra­tion, reli­gious tol­er­ance and oth­er open soci­ety attributes.
This pat­tern is unique to young peo­ple (Fig­ure 1). Only 9 per­cent of 18-to-24-year-old Ger­mans said that both issues in the trade-off were equal­ly impor­tant for a good soci­ety, while more than a third of over 55-year-olds con­sis­tent­ly thought so. Jan Eich­horn has con­clud­ed else­where that, for the over­all pop­u­la­tion, we can­not assume a strong schism between open and closed soci­ety views, because of the large group of "in-betweens" who favour both. The youngest age group, how­ev­er, seem to be more will­ing to argue both ways.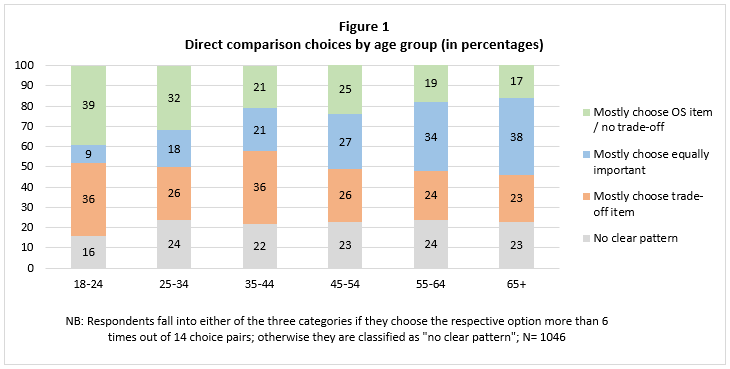 Not all young Ger­mans val­ue polit­i­cal sta­bil­i­ty – but many do
When asked whether a good soci­ety need­ed open­ness of gov­ern­ment rather than polit­i­cal sta­bil­i­ty, 61 per­cent of young Ger­mans said polit­i­cal sta­bil­i­ty was the most impor­tant. This is in line with oth­er youth sur­veys show­ing that sta­bil­i­ty occu­pies an impor­tant place in young Ger­mans' under­stand­ing of a good society.
But for almost a quar­ter of the same age group, it was more impor­tant that groups crit­i­cal of the gov­ern­ment be able to engage in dia­logue with the rul­ing par­ties. Out of all the age groups, the 18-to-34-year-olds are the most com­mit­ted to gov­ern­ment open­ness. But only 15 per­cent of 18-to-24-year-olds con­sid­ered both aspects as equal­ly impor­tant, while among all oth­er age groups more than a third of respon­dents chose the in-between position.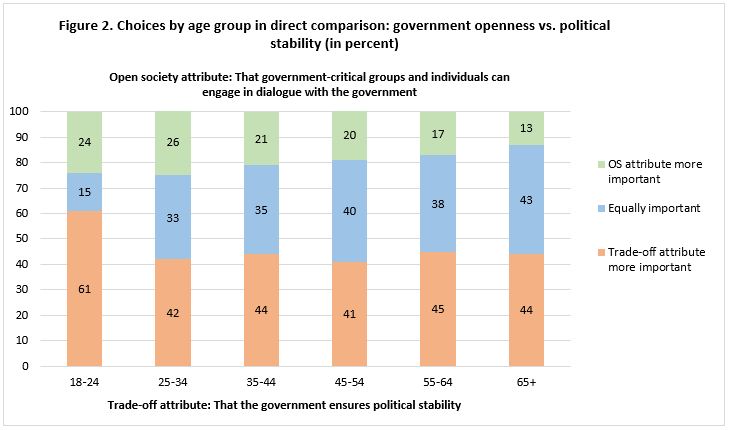 Mixed news for the open soci­ety in Germany
What these pat­terns may mean is that young peo­ple – more so than old­er gen­er­a­tions – are ready to make clear-cut choic­es about what con­sti­tutes a good soci­ety. This could be good news, but it also implies that for many young Ger­mans there appears to be lit­tle room for con­sen­sus between those who sup­port open soci­ety attrib­ut­es and those who would rather see the gov­ern­ment guar­an­tee social cohe­sion, polit­i­cal sta­bil­i­ty and eco­nom­ic well­be­ing. With few­er "in-betweens" defend­ing both ends of the scale, young Ger­mans may also be eas­i­er prey to sim­plis­tic yet effec­tive pop­ulist dis­course in the media and else­where, for instance that pro­tect­ing minor­i­ty rights is incom­pat­i­ble with security.
Above all, these results show that young peo­ple in Ger­many are not a homo­ge­neous group. Germany's young peo­ple are very dif­fer­ent from the old­er gen­er­a­tions in their views of what makes a good soci­ety. They are also more divid­ed. This can change, of course, as val­ues change over a life­time, whether with age or dif­fer­ent socio-eco­nom­ic circumstances.
But con­tacts made in a person's younger years are wide­ly con­sid­ered to influ­ence a life­time of core val­ues, like the kind of soci­ety a per­son wants to live in. Accord­ing to social sci­en­tist Rus­sell Dal­ton, "Once learned, val­ues are sta­ble beliefs and rel­a­tive­ly imper­vi­ous to lat­er-life changes in the social or per­son­al envi­ron­ments." The val­ues they con­sid­er most impor­tant may change over time, but a degree of divi­sion and polar­i­sa­tion among those Ger­mans now aged between 18 and 24 is like­ly to persist.
This is mixed news for the open soci­ety, imply­ing on the one hand that a sub­stan­tial num­ber of young Ger­mans are, and will prob­a­bly remain, firm sup­port­ers of open soci­ety val­ues. On the oth­er hand, a divid­ed soci­ety is a soci­ety in which com­pro­mise is more dif­fi­cult to reach and a com­mon ground hard­er to find, two keys to an open and inclu­sive soci­ety. The biggest chal­lenge for the future of the open soci­ety in Ger­many will be to bridge soci­etal divides and to address the sim­plis­tic view that sta­bil­i­ty and open­ness are mutu­al­ly exclusive.
If you want to read further:
Jugend 2015. 17. Shell Jugend­studie. Hur­rel­mann, A. M., K., Quen­zel, K. G. & TNS Infrat­est, S. (2015). Frank­furt: Fis­ch­er Taschen­buch Verlag.
Calm­bach, M., Borg­st­edt, S., Bor­chard, I., Thomas, P. M. & Flaig, B.B. (2016) Wie tick­en Jugendliche 2016? Lebenswel­ten von Jugendlichen im Alter von 14 bis 17 Jahren in Deutsch­land. Springer Link.
Dal­ton, R. (1981) The Per­sis­tence of Val­ues and Life Cycle Changes. Poli­tis­che Viertel­jahreszeitschrift, Son­der­heft 'Poli­tis­che Psychologie'.
Karakay­ali, S & Kleist, J. O. (2016) EFA-Studie 2: Struk­turen und Motive der ehre­namtlichen Flüchtlingsar­beit in Deutsch­land, Forschungs­bericht: Ergeb­nisse ein­er explo­rativ­en Umfrage vom November/Dezember 2015, Berlin: Berlin­er Insti­tut für empirische Inte­gra­tions- und Migra­tions­forschung (BIM), Hum­boldt-Uni­ver­sität zu Berlin.
–
The author of this arti­cle, Mag­a­li Mohr, is a Research Fel­low at d|part.
Dis­claimer
The views and opin­ions expressed in this arti­cle are those of the author.