Beyond debt and austerity: What is happening in Greece is a slap in the face for democracy
By Chris­tine Hueb­n­er and Götz Har­ald Frommholz.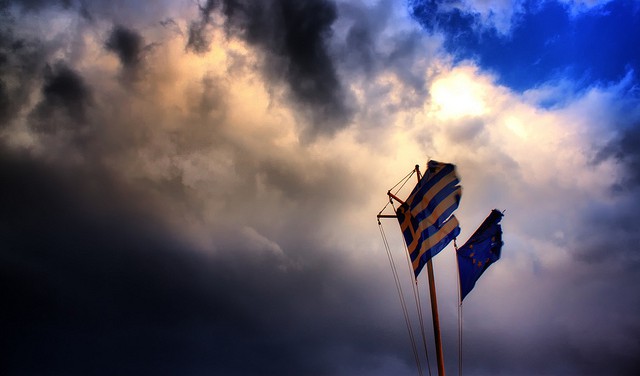 As much has been writ­ten on the sit­u­a­tion in Greece as there are peo­ple with dif­fer­ent opin­ions out there. On Twit­ter only, more than a mil­lion tweets tagged #Greece have been sent in the past four weeks, with a peak of 120.000 tweets on Sun­day, ref­er­en­dum day, alone. Opin­ions on what should be done to end the lengthy strug­gle on Greek pub­lic debt abound, call­ing for any­thing rang­ing from imme­di­ate waiv­ing of all debt to sched­uled reform cou­pled with a pay­back agenda.
Beyond the polit­i­cal debate, how­ev­er, few have com­ment­ed on the wider infer­ence of what is hap­pen­ing in and to Greece at the moment: on how the con­stant strug­gle for Greek debt relief and reform is alien­at­ing vot­ers in- and out­side of Greece. What has been unfold­ing around Greece and its cred­i­tors in the past weeks is a slap in the face for any cit­i­zen and the demo­c­ra­t­ic prin­ci­ple. Three rea­sons why:
There is intrans­paren­cy in polit­i­cal deci­sion making.
There is a lack of (under­stand­able) information.
Actions are dri­ven by ide­ol­o­gy rather than by vis­i­ble prob­lem-solv­ing capacity.
Intrans­paren­cy
The polit­i­cal tug of war on Greece's poten­tial debt default has been opaque to cit­i­zens – no mat­ter which of the coun­tries involved you hail from. Night­ly emer­gency sum­mits and last-minute bailouts have become a stan­dard theme over the past years. With cit­i­zens this leaves but one impres­sion: no time for expla­na­tions! Last week's sud­den turn of events is sad­ly in line with this theme: Alex­is Tsipras' move to sched­ule a vote among the Greek peo­ple on whether to accept or reject its cred­i­tors' demands for reform came as much out of the blue as any pre­vi­ous EFSF bailout deci­sion. Not only did it take EU politi­cians by sur­prise. It also alien­at­ed some of Tsipras' fel­low cit­i­zens at home.
A mea­gre sev­en days from announc­ing to hold­ing a ref­er­en­dum is bare­ly enough time to print and dis­trib­ute those 10 mil­lion bal­lots that were nec­es­sary for Sunday's vote. It cer­tain­ly is not enough time to debate the prop­er word­ing of the bal­lot ques­tion in par­lia­ment. It does also not leave suf­fi­cient time for the Greek pop­u­la­tion to get informed and dis­cuss what to vote for. The over­whelm­ing media pres­ence of Tsipras and his gov­ern­ment cam­paign­ing for a "No" vote left lit­tle room for the oppo­si­tion to effec­tive­ly cam­paign for anoth­er out­come. This result­ed in an asym­me­try of infor­ma­tion that can – at best – be described as imbalanced.
The build-up to this Sunday's ref­er­en­dum is best con­trast­ed by anoth­er event: the ref­er­en­dum on Scot­tish inde­pen­dence. Its after­math serves proof of how ben­e­fi­cial trans­paren­cy pri­or to a pub­lic vote can be. In the days after the ref­er­en­dum in Sep­tem­ber 2014 Scot­tish polit­i­cal par­ties report­ed a sud­den rise in mem­ber­ship. Some even have four times as many mem­bers as pri­or to the ref­er­en­dum today. There are var­i­ous rea­sons for this surge in par­ty mem­ber­ship, includ­ing one: After two years of debat­ing the pro's and con's of leav­ing the Union in every pub and at every par­ty, Scots had got­ten inter­est­ed in pol­i­tics. Lat­est sur­vey research by our col­league Jan Eich­horn and his team at the Uni­ver­si­ty of Edin­burgh shows that months after the ref­er­en­dum a sig­nif­i­cant pro­por­tion of Scots are still more inter­est­ed in pol­i­tics than their Eng­lish, Irish or Welsh fel­low citizens.
In con­trast, with less than sev­en days to cam­paign the ref­er­en­dum in Greece had no chance to trig­ger a prop­er polit­i­cal dis­course – no mat­ter how politi­cized the Greek are by now. Instead, the ref­er­en­dum will most like­ly remain a prime exam­ple of how this par­tic­u­lar tool of direct democ­ra­cy can be mis­used for a vote of con­fi­dence in a game of polit­i­cal pressure.
Lack of under­stand­able information
A fun­da­men­tal rule of apply­ing tools of direct democ­ra­cy is to ensure that cit­i­zens have all rel­e­vant infor­ma­tion to make a deci­sion. Eas­i­ly under­stand­able mate­ri­als on the mat­ter at hand are a must-have. The same holds for a fair and bal­anced ref­er­en­dum ques­tion. Yet anoth­er look at the two years pri­or to the ref­er­en­dum on Scot­tish Inde­pen­dence proves that it is not exact­ly a walk in the park to pro­vide such a bal­anced ref­er­en­dum ques­tion: it took sev­er­al iter­a­tions and com­mis­sions to fig­ure it out in the Scot­tish exam­ple.
Let us take a look at the trans­la­tion of the Greek bal­lot paper…
"Should the agree­ment plan sub­mit­ted by the Euro­pean Com­mis­sion, the Euro­pean Cen­tral Bank and the Inter­na­tion­al Mon­e­tary Fund to the Eurogroup of 25 June, 2015, and com­prised of two parts which make up their joint pro­pos­al, be accept­ed? The first doc­u­ment is titled "reforms for the com­ple­tion of the cur­rent pro­gramme and beyond" and the sec­ond "Pre­lim­i­nary debt sus­tain­abil­i­ty analysis".
This is the bal­lot paper for the 2015 Greek bailout ref­er­en­dum, found on the offi­cial web­site of the Greek Min­istry of Inte­ri­or and Admin­is­tra­tive Recon­struc­tion (OXI = No, NAI = Yes, Source: Greek Gov­ern­ment). Vot­ers had to check one of two box­es — "not approved/no" or, below it, "approved/yes".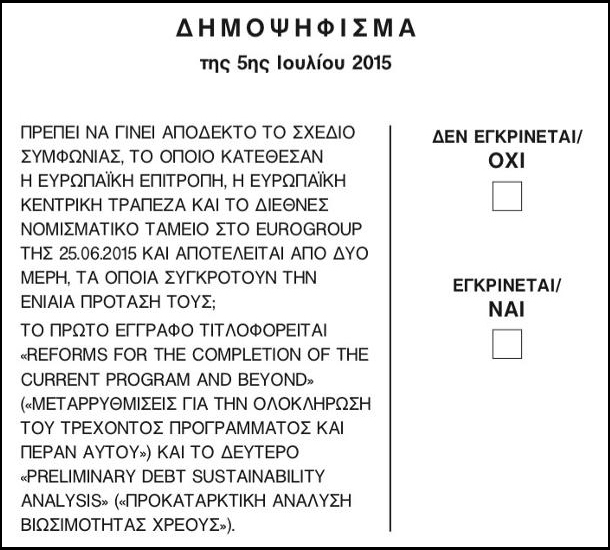 … and at what vot­ers thought of it (via Gre­go­ry Katz and Theodo­ra Mavropou­los, Asso­ci­at­ed Press):
Yanis Kout­zou­velis, 19: "I under­stand the ques­tion in gen­er­al but the ques­tion is not clear because we don't know the con­se­quences of vot­ing 'no' and we don't know if it means going out of the euro­zone. I mean I don't know in the end if the 'yes' or the 'no' is in ref­er­ence to the drach­ma (Greek's for­mer nation­al cur­ren­cy) or not. I will look at a lot of tele­vi­sion and radio news but it's super-dif­fi­cult to under­stand what it real­ly means."
Andreas Simeou, 56: "With that ques­tion the gov­ern­ment mis­leads the peo­ple. It's not the fault of the Greek peo­ple. Now the gov­ern­ment is giv­ing the whole weight to the peo­ple and it always says it's some­one else's fault that every­thing is a mess here."
The result of a lack of under­stand­able infor­ma­tion is that many Greeks alleged­ly did not real­ize the con­se­quences of Sunday's vote.
The use of ideology
Just like Sunday's bal­lot the rest of the cam­paign lacked under­stand­able infor­ma­tion. What is more: there was obvi­ous pres­sure applied on the Greek peo­ple that had noth­ing to do with impar­tial infor­ma­tion. In a sit­u­a­tion in which it is almost impos­si­ble to make an informed deci­sion due to the lack of time and trans­par­ent infor­ma­tion, it is not help­ing if (now) for­mer Greek Min­is­ter of Finance, Yan­nis Varo­ufakis, describes the EU insti­tu­tions' pol­i­cy as "ter­ror­ism". The rhetoric used by Tsipras and his team left no doubt of where pub­lic opin­ion ought to be moved to: the Greek peo­ple had no choice but to vote "no". Like­wise, media out­lets across var­i­ous Euro­pean coun­tries – first and fore­most Ger­many – did not miss a chance to illus­trate the (all but neg­a­tive) con­se­quences of a Greek No-vote: an imme­di­ate exit from the Euro­zone and dra­mat­ic decline of eco­nom­ic activ­i­ty in a hell-break­ing-loose like scenario.
Why is there so much call­ing on emo­tions on all sides instead of on informed deci­sion-mak­ing? It seems that ide­ol­o­gy plays a fun­da­men­tal role in this cri­sis. What first seemed to be a bat­tle of eco­nom­ic ide­olo­gies — aus­ter­i­ty vs. invest­ment – has been turned into an even big­ger bat­tle­field of cap­i­tal­ism vs. com­mu­nism. So far, nei­ther the cur­rent Greek gov­ern­ment nor for­eign media have missed an oppor­tu­ni­ty to state: "It is us ver­sus them". And this is a prob­lem. It is impos­si­ble to nego­ti­ate with an ide­ol­o­gy. Cit­i­zens have a hard time to cut through it. Two oppos­ing ide­olo­gies in a nego­ti­a­tion have to end in a dead­lock that fea­tures no seri­ous prob­lem-solv­ing capac­i­ty and leaves cit­i­zens in the obscure mess of hav­ing to fig­ure out what is right or wrong.
What would be an alter­na­tive way out of this dead­lock? The Euro­pean Com­mis­sion pub­lished a doc­u­ment list­ing all mea­sures for the sta­bil­i­sa­tion of Greek pub­lic debt. This is the sort of infor­ma­tion that the Greek peo­ple des­per­ate­ly need­ed in order to decon­struct the sce­nario of fear and mis­in­for­ma­tion by their gov­ern­ment and for­eign media. And it could have been the ide­al basis for a prop­er polit­i­cal dis­course involv­ing Greek and EU cit­i­zens alike.
–
Chris­tine Hüb­n­er and Götz Har­ald Frommholz are part­ners at d|part.
Dis­claimer
The views and opin­ions expressed in this arti­cle are those of the authors.
–
Title pic­ture: 'Dou­ble trou­ble' cour­tesy of Theophi­los Papadopou­los via Flickr, released under Cre­ative Commons.