Italy's coalition government — revealing a tricky balance in supporters' values
By Fed­eri­co Quadrelli.

With the new Ital­ian gov­ern­ment, con­sist­ing of a coali­tion between the anti-estab­lish­ment Five Star Move­ment (M5S) and the far-right Lega Nord (here­inafter League) par­ty, the results of the Ital­ian gen­er­al elec­tion of March 4 look at first sight like a resound­ing defeat for the open soci­ety val­ues of democ­ra­cy and tol­er­ance. But this isn't as straight­for­ward as it seems.
The M5S and the League, joint­ly tak­ing half the votes, are both anti-immi­grant and anti-Euro­pean, but that hides greater complexities.
It is still too ear­ly to tell where this two-par­ty coali­tion rep­re­sent­ing dif­fer­ent ends of the polit­i­cal spec­trum will posi­tion itself on human rights, free­dom of speech, trans­paren­cy and minor­i­ty protection.
So far, the avail­able data sug­gests that the views of those who vot­ed for M5S and the League are com­plex to the point of being contradictory.
The new real­i­ty is that many vot­ers in Italy may defend both open and closed soci­ety val­ues. For exam­ple, it's pos­si­ble to defend reli­gious free­dom while believ­ing at the same time that Catholic val­ues must be protected.
This more com­plex approach to social issues may offer a key to under­stand­ing Ital­ians' elec­toral choic­es, and thus open­ing a dia­logue with them.
No longer a class or gen­er­a­tional divide
Italy's polit­i­cal cul­ture has changed rad­i­cal­ly since the pre­vi­ous gen­er­al elec­tion in 2013. The social-democ­rats' once pop­u­lar Demo­c­ra­t­ic Par­ty (PD) lost votes in both north­ern and south­ern Italy, includ­ing the tra­di­tion­al « red regions » of Tus­cany and Emil­ia Romagna. With only 18.8 per­cent of votes, this was the Left's worst elec­toral score since the end of the Sec­ond World War, and a clear rejec­tion of PD Prime Min­is­ter Mat­teo Renzi's reforms.
Research by IPSOS con­sul­tan­cy has shown that M5S vot­ers spanned dif­fer­ent gen­er­a­tions and social class­es, mak­ing it very clear that M5S doesn't owe its suc­cess to less edu­cat­ed and low­er income vot­ers. Like the League, it is sup­port­ed across gen­er­a­tions and back­grounds. Because the age, edu­ca­tion or income lev­els of vot­ers can no longer explain elec­toral results in Italy, it is clear that they require clos­er and more sophis­ti­cat­ed analysis.
Time for a more sub­tle analy­sis of vot­ers' views
Elec­toral cam­paigns in the run-up to the March 2018 elec­tions cen­tred on con­tentious issues like immi­gra­tion, reli­gious free­dom and minor­i­ty rights. But many peo­ple failed to vote in a man­ner that was con­sis­tent with these issues. While open­ly hos­tile to some free­doms, they proved open to oth­ers. The League and M5S both advo­cate a crack­down on immi­gra­tion, but although they won broad sup­port across Ital­ian soci­ety for this, that doesn't nec­es­sar­i­ly imply a whole-heart­ed rejec­tion of open soci­ety values.
Voic­es on Val­ues is a joint project of the Open Soci­ety Euro­pean Pol­i­cy Insti­tute and d|part. It mon­i­tors chang­ing pub­lic per­cep­tion of social issues in France, Ger­many, Italy, Greece, Poland and Hun­gary. Its sur­veys show that the same vot­ers often share both pro­gres­sive and less pro­gres­sive values.
Respon­dents were asked to rate the impor­tance of issues like free­dom of expres­sion and quo­tas on immi­grants. Based on the answer options two scores were com­put­ed and stan­dard­ised, one for the rat­ing of open (open soci­ety score) and one for closed soci­ety attrib­ut­es (closed soci­ety score). There­by a score of 0 means respon­dents said "not at all essen­tial" to all sev­en items, a score of 1 means they said "absolute­ly essen­tial" to all sev­en items.
Sup­port for open and closed soci­ety val­ues among voters
Look­ing at how impor­tant sup­port­ers of dif­fer­ent par­ties eval­u­ate open and closed soci­ety attrib­ut­es, i.e. at their open and closed soci­ety scores, pro­vides some inter­est­ing food for thought: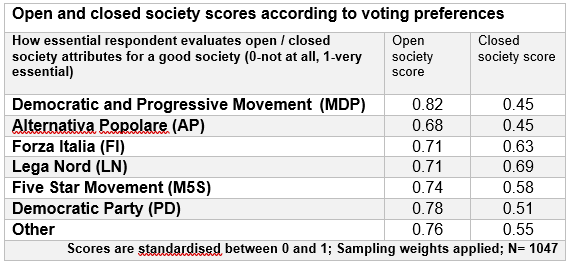 Sup­port­ers of the League and cen­tre-right Forza Italia pre­dictably favoured closed soci­ety val­ues, while the left­ist Demo­c­ra­t­ic and Pro­gres­sive Move­ment (MDP) and the cen­trist Alter­na­ti­va Popo­lare (AP) proved clos­er to open soci­ety prin­ci­ples. The tru­ly inter­est­ing find­ing has been that peo­ple who vot­ed for M5S, the League and Forza Italia often held views that evoke both open and closed soci­ety atti­tudes. How can this seem­ing con­tra­dic­tion be explained? And what does it tell us about vot­ers of the League and MS5 in particular?
Social atti­tudes, in Italy and else­where, are far more com­plex than has tra­di­tion­al­ly been assumed, and so can­not be neat­ly cat­e­gorised. Our data indi­cates that vot­ers of MS5 and the League are more like­ly to eval­u­ate closed soci­ety attrib­ut­es as essen­tial, while at the same time eval­u­at­ing open soci­ety attrib­ut­es as impor­tant. This means that a per­son might advo­cate the pro­tec­tion of minori­ties, while at the same time he or she may believe that it is more impor­tant to pro­tect Ital­ians' eco­nom­ic well-being than that of migrants'. Pol­i­cy-mak­ers would do well to become increas­ing­ly aware of this more sub­tle bal­anc­ing of vot­er views.
–
The author of this arti­cle, Fed­eri­co Quadrel­li, is a Research Fel­low at CILD.
Dis­claimer
The views and opin­ions expressed in this arti­cle are those of the author.