After over one year of research, last week, on Feb­ru­ary 19th, d|part and the Open Soci­ety Euro­pean Pol­i­cy Insti­tute (OSEPI) offi­cial­ly launched the Voic­es on Val­uespub­li­ca­tions at a pub­lic even­tat the Ger­man Coun­cil on For­eign Rela­tions (DGAP), Berlin. Based on a six-coun­try sur­vey study (Ger­many, France, Poland, Hun­gary, Italy and Greece) with over 6000 respon­dents and over 80 inter­views, the pub­li­ca­tion­sin­clude both high-lev­el and com­par­a­tive reports on com­mon find­ings across Europe as well as coun­try reports, which engage with coun­try-spe­cif­ic under­stand­ings, debates and chal­lenges con­cern­ing open societies.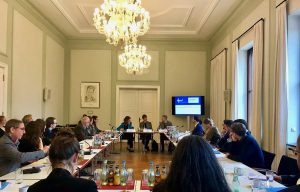 In the after­noon event Dr Jan Eich­horn, Research Direc­tor of d|part and Coor­di­na­tor of the Voic­es on Val­ues project, togeth­er with d|part's Senior Research Fel­lows, Dr Luuk Molthof and Mag­a­li Mohr, pre­sent­ed the key research find­ings, which were dis­cussed with the wider pub­lic and a range of experts.
Among these were pol­i­cy mak­ers, ace­demics, jour­nal­ists and rep­re­sen­ta­tives of civ­il soci­ety organ­i­sa­tions, includ­ing OSEPI's Direc­tor Heather Grabbe and Daniela Schwarz­er, Direc­tor of DGAP. Next to the pre­sen­ta­tion of the cross-coun­try find­ings, in the after­noon one of the authors of the Hun­gar­i­an report, Bulc­sú Hun­ya­di, as well as the co-author of the Pol­ish case study, Fil­ip Pazdes­ki, pre­sent­ed their country's key find­ings. This was fol­lowed by an open dis­cus­sion on the com­mon­al­i­ties and dif­fer­ences between the two coun­tries, with a partic­u­lar focus on the majori­tar­i­an under­stand­ings of democ­ra­cy appar­ent in both.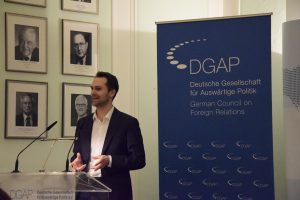 In the evening an event with a par­tic­u­lar focus on the Ger­man case study "The fad­ing taboo of Germany's nation­al pride" took place. The pre­sen­ta­tion of the key find­ings by the study's authors, Dr Luuk Molthof and Mag­a­li Mohr, was fol­lowed by a pan­el dis­cus­sion on the research's impli­ca­tions for Ger­many and, in par­tic­u­lar, its role with­in the EU. Next to Jana Puglierinfrom DGAP, who mod­er­at­ed the ses­sion, and dpart's Direc­tor Dr Jan Eich­horn, the author of "deutsch, nicht dumpf", Thea Dorn, the deputy head of the Berlin office of Der Spiegel, Chris­tiane Hoff­mann, and Selmin Çalışkan, Direc­tor of Insti­tu­tion­al Rela­tions, OSF Berlin, formed part of the panel.