Political entrepreneurs on the populist wave: the rise of Podemos
By Javier Martínez-Can­tó.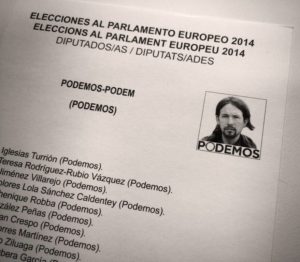 Unlike the rest of Europe, with the excep­tion of Por­tu­gal, Spain remains immune to the rise of pop­ulist rad­i­cal right par­ties.[1] But since the 2014 Euro­pean elec­tion Spain is expe­ri­enc­ing its own pop­ulist phe­nom­e­non — one that has emerged from the left side of the polit­i­cal spec­trum.[2] The birth and con­sol­i­da­tion of Podemos in less than 2 years is one of the most remark­able polit­i­cal achieve­ments in recent Euro­pean pol­i­tics, and it has shak­en the whole Span­ish polit­i­cal system.
The intel­lec­tu­al and strate­gic back­bone of Podemos
Ear­ly in 2014, a group of polit­i­cal and social sci­en­tists based at Madrid's Com­plutense Uni­ver­si­ty found­ed Podemos with the aim of com­pet­ing in the upcom­ing Euro­pean elec­tions. Pablo Igle­sias, Juan Car­los Mon­edero, Iñí­go Erre­jón, Car­oli­na Bes­cansa and Luis Ale­gre formed the par­ty core at that time. Remark­ably, Igle­sias and Mon­edero have been promi­nent par­tic­i­pants in polit­i­cal TV talk shows for a long time and their role must be under­stood as polit­i­cal entre­pre­neurs who see a niche in the polit­i­cal mar­ket that they seek to fill.
On the one hand the group was close­ly linked to the tra­di­tion­al Span­ish com­mu­nist par­ty IU (Izquier­da Uni­da – Unit­ed Left), to whom they have been advi­sors in the past. In the first place they tried to mod­ern­ize IU and run with­in it for the 2014 Euro­pean elec­tion, but they were unable to move IU away from its tra­di­tion­al stand­ings. There­fore they joined forces with the minor Trot­sky­ist par­ty Izquier­da Ant­i­cap­i­tal­ista (Ant­i­cap­i­tal­ist Left, 0.13% in 2009 EP elec­tions). The alliance proved suc­cess­ful as the lat­ter sup­plied a num­ber of expe­ri­enced par­ty activists all around the coun­try while the for­mer pro­vid­ed polit­i­cal strat­e­gy and media access. The depen­den­cy of Podemos' ear­ly days on the lead­er­ship is fur­ther empha­sised by the fact that Pablo Igle­sias' face was used on bal­lot sheets instead of a com­mon par­ty logo.
Pop­ulist rhetoric and a sur­prise result in the 2014 EP elections
To everybody's sur­prise, Podemos achieved 8% of the vote and 5 MEPs in the 2014 Euro­pean Par­lia­ment elec­tions. The pre-elec­toral poll, con­duct­ed a month before the elec­tion by the Span­ish Cen­tre for Soci­o­log­i­cal Research (CIS), had only pre­dict­ed one MEP and 1.8% of the vote. Pri­or to the elec­tion, the party's cam­paign was based main­ly on social media; the par­ty enjoyed lim­it­ed pres­ence in the main­stream media. If at all, it was gained by the pre­vi­ous par­tic­i­pa­tion of some of its lead­ers. The par­ty man­i­festo con­tained tra­di­tion­al rad­i­cal left poli­cies like sup­port for pub­lic bank­ing, basic income or free trade restric­tions in addi­tion to new con­cepts like par­tic­i­pa­to­ry pub­lic bud­gets or cit­i­zens' pub­lic debt audit. Over­all, the party's polit­i­cal mes­sage for the 2014 EP elec­tions was pop­ulist in the sense that it was one of the "peo­ple" against the "cor­rupt elite" – some­thing that is termed la cas­ta (the caste) in Span­ish.[3] Accord­ing to Cordero and Mon­tero [4], it was most­ly a lack of con­fi­dence in politi­cians and democ­ra­cy as a gen­er­al prin­ci­ple that moti­vat­ed Podemos' vot­ers dur­ing the Euro­pean elec­tion. Even though Podemos was found­ed, in par­tic­u­lar, to make its first appear­ance in the Euro­pean elec­tion, the par­ty does not have a strong anti- or pro-EU posi­tion. On EU affairs the par­ty does not take stronger posi­tions than a gen­er­al sup­port of anti-aus­ter­i­ty mea­sures, as a sig­nif­i­cant share of the Span­ish elec­torate does not chal­lenge EU inte­gra­tion or mem­ber­ship. The par­ty con­sid­ers itself close to the Greek left­ist par­ty Syriza.
Pol­i­cy mod­er­a­tion and wide­spread elec­toral support
Since the 2014 EP elec­tions, polls show that Podemos has steadi­ly gained sup­port. Less than a year after its foun­da­tion it became the largest par­ty accord­ing to some polls, like one com­mis­sioned by the Span­ish broad­sheet El Pais. At the same time the par­ty start­ed a process of pol­i­cy mod­er­a­tion, from rad­i­cal-left poli­cies to tra­di­tion­al social democ­ra­cy, although with­out leav­ing aside its pop­ulist claims. Addi­tion­al­ly, the par­ty kept pro­mot­ing means of social par­tic­i­pa­tion, espe­cial­ly ref­er­en­dums, which it also prac­tices inter­nal­ly. Par­ty mem­bers vote online on inter­nal offices, can­di­dates and coali­tion poli­cies. Actu­al­ly, and unlike oth­er par­ties, par­ty mem­ber­ship only requires online reg­is­tra­tion — no fees or spon­sor­ship. Fer­nan­dez-Alber­tos [5] argues that in the process of this pol­i­cy and pro­ce­dur­al trans­for­ma­tion of the par­ty its core vot­ers changed from high­ly mobi­lized anti-aus­ter­i­ty pro­test­ers to peo­ple harmed by the cri­sis, either direct­ly or by lack of opportunities.
From March to Sep­tem­ber 2015 the par­ty ran in local and most of the country's region­al elec­tions. It achieved, on aver­age, 13% of the vote.[6] Espe­cial­ly for the local elec­tions the par­ty had a pecu­liar strat­e­gy: instead of run­ning with their own can­di­dates in local con­stituen­cies, the par­ty pro­mot­ed the so-called "pop­u­lar uni­ty can­di­da­tures". These were ad-hoc can­di­da­tures formed by Podemos in com­bi­na­tion with social move­ments, local grass­roots orga­ni­za­tions and oth­er par­ties such as the Greens or IU. Each plat­form com­po­si­tion var­ied from city to city. Today, Podemos par­tic­i­pates in the gov­ern­ment of main cities such as Madrid, Barcelona, Valen­cia or Zaragoza. Podemos argued, that due to its ear­ly devel­op­ment as a par­ty, they were unable to run in all munic­i­pal­i­ties by their own means. These suc­cess­es were step­ping-stones for the Decem­ber 2015 nation­al elec­tion. Podemos received close to 21% of the votes, despite the fact that the par­ty ran in pre-elec­toral coali­tions with oth­er forces in three regions. The par­ty became the third biggest polit­i­cal force in Spain, only 2 per­cent­age points behind the social­ist par­ty. This marks the best result for a third par­ty in Span­ish demo­c­ra­t­ic history.
Ear­ly elec­tions and new strategies
New elec­tions were called in Spain due to the polit­i­cal block­age that has deterred the for­ma­tion of a new gov­ern­ment since the Decem­ber elec­tion in 2015. But this time, Podemos will run most like­ly in a broad pre-elec­toral coali­tion with IU, which received near­ly one mil­lion votes in the Decem­ber elec­tion. This coop­er­a­tion may allow Podemos to sur­pass the social­ist par­ty and become the sec­ond biggest par­ty in Spain. Although the par­ty is expe­ri­enc­ing its first orga­ni­za­tion­al cri­sis, its elec­toral prospects remain good. This, in com­bi­na­tion with their pres­ence in local enti­ties as well as in region­al par­lia­ments, secures the party's con­ti­nu­ity in the short, and even medi­um, term. And even fur­ther elec­toral sup­port is not beyond reach: the par­ty could use cit­i­zens' pos­si­ble future dis­con­tent to its ben­e­fit, espe­cial­ly if the next gov­ern­ment turns out to be either a cen­ter-right or a grand coalition.
–
Javier Martínez-Can­tó is doc­tor­al fel­low at the Bam­berg Grad­u­ate School of Social Sci­ences in Ger­many. He is cur­rent­ly work­ing on can­di­date selec­tion, par­ty lead­er­ship and par­ty trans­for­ma­tion in com­par­a­tive perspective.
Dis­claimer
The views and opin­ions expressed in this arti­cle are those of the author.
–
[1] Mud­de, C. (2004). The Pop­ulist Zeit­geist. Gov­ern­ment and Oppo­si­tion, 39(4), 542–563.
[2] These par­ties are defined by their author­i­tar­i­an­ism, pro-nativist poli­cies and pop­ulist approach. Lat­er Podemos sug­gest­ed a more gen­er­al inter­pre­ta­tion of soci­ety. In their eyes, their soci­ety was divid­ed between the "pure peo­ple" and the "cor­rupt elite". Alon­so and Rovi­ra Kalt­wass­er argued that Spain pro­vid­ed ide­al con­di­tions for the appear­ance of a pop­ulist rad­i­cal right-wing par­ty. Before the eco­nom­ic cri­sis, grow­ing polit­i­cal dis­trust and anti-immi­gra­tion sen­ti­ments could be observed from the demand side. But the sup­ply fac­tors did not meet the demand ones. The com­pet­ing visions of cen­tral and periph­er­al visions of iden­ti­ty (Span­ish­ness vs. region­al iden­ti­ties) pre­vent­ed the devel­op­ment of nativist poli­cies. In addi­tion, the main­stream con­ser­v­a­tive par­ty PP (People´s Par­ty) con­tin­ued to attract right-wing vot­ers by appeal­ing to Span­ish iden­ti­ty. Usu­al­ly pop­ulist rad­i­cal right par­ties frame their dis­course in "then (immi­grants) vs. us". But in Spain polit­i­cal actors failed to clear­ly define the "us".
[3] In recent years Spain has been shak­en by sev­er­al cor­rup­tion scan­dals in local enti­ties, region­al gov­ern­ments and nation­al par­ties. The term "cas­ta" is a catch-all con­cept refer­ring to bank­ing elites, cor­rupt politi­cians and extrac­tive elites. As Rodon and Hier­ro explain, the term refers to "a priv­iledged polit­i­cal class".
Rodon, T., & Hier­ro, M. J. (2016). Podemos and Ciu­dadanos Shake up the Span­ish Par­ty Sys­tem: The 2015 Local and Region­al Elec­tions. South Euro­pean Soci­ety and Pol­i­tics, 8746(March), 1–19.
[4] Cordero, G., & Mon­tero, J. R. (2015). Against Bipar­ty­ism, Towards Dealign­ment? The 2014 Euro­pean Elec­tion in Spain. South Euro­pean Soci­ety and Pol­i­tics, 20(3), 357–379.
[5] Podemos' rise can­not be explained with­out the 15‑M move­ment. This was a series of anti-aus­ter­i­ty demon­stra­tions that took place dur­ing May 2011. The move­ment polit­i­cal­ly mobi­lized a grow­ing num­ber of peo­ple. Most of them were hit by the cri­sis. Although the move­ment demon­strat­ed that Span­ish opin­ion and atti­tudes were chang­ing due to the eco­nom­ic cri­sis, its polit­i­cal con­se­quences were for a long time not visible.
Fer­nán­dez-Alber­tos, J. (2015). Los votantes de Podemos. Del par­tido de los indig­na­dos al par­tido de los exclu­i­dos. Madrid: Catarata.
[6] In Spain, all local elec­tions take place on the same day. Region­al elec­tions took place in all regions of the coun­try in this peri­od, with the excep­tion of Gali­cia and the Basque Coun­try. For Gali­cia and the Basque Coun­try, the next elec­tions are sched­uled for autumn 2016. At the moment, Podemos is sup­port­ing five social­ists, or social­ist and region­al­ist, gov­ern­ments and is part of the Balearic Islands' gov­ern­ment. In total, they facil­i­tat­ed the end of 7 con­ser­v­a­tive region­al governments.
Rodon, T., & Hier­ro, M. J. (2016). Podemos and Ciu­dadanos Shake up the Span­ish Par­ty Sys­tem: The 2015 Local and Region­al Elec­tions. South Euro­pean Soci­ety and Pol­i­tics, 8746(March), 1–19.
–
Pic­ture: Podemos List dur­ing 2014 Euro­pean Par­lia­ment elec­tions, by Javier Martínez-Cantó