Poland: A success story gone bad?
By Hon­o­ra­ta Maze­pus & Aga­ta Maze­pus.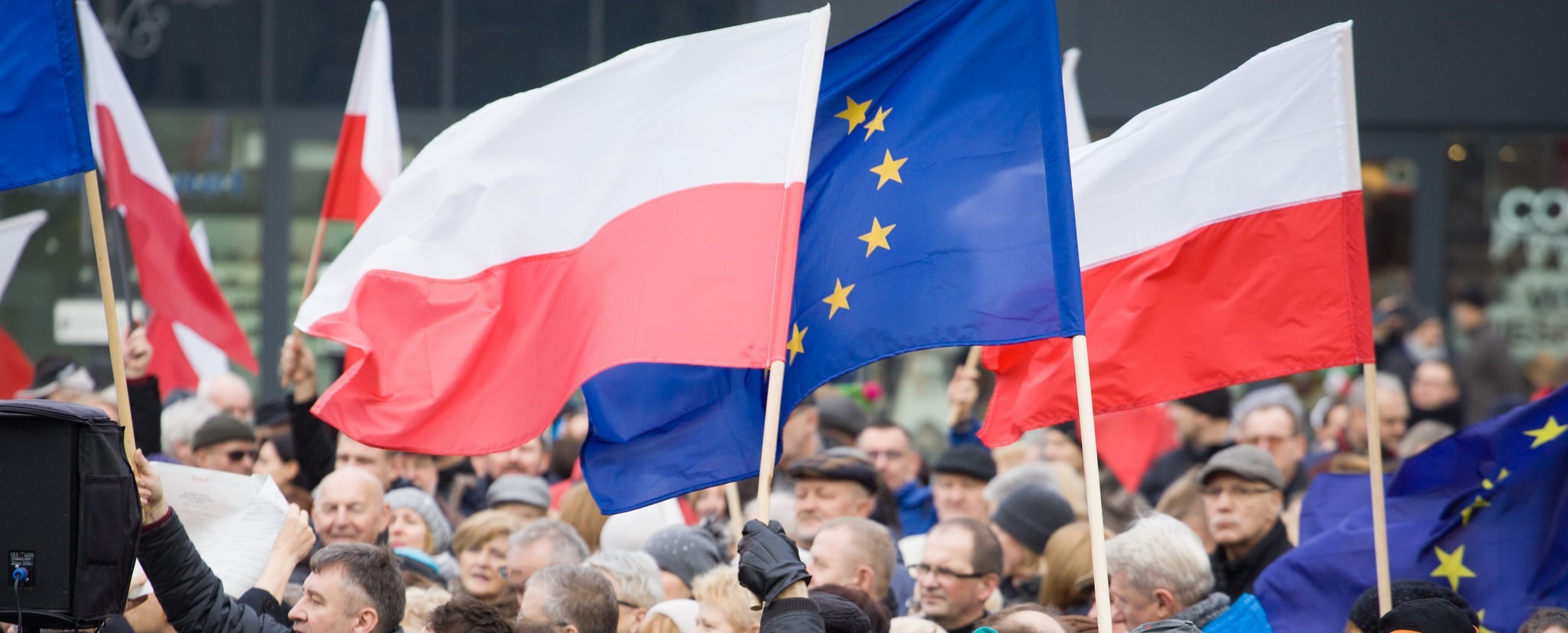 Poland has been con­sid­ered an exem­plary case of regime change in the third wave of democ­ra­ti­sa­tion. Poland's demo­c­ra­t­ic reforms and devel­op­ment of mar­ket econ­o­my in the last 25 years were eval­u­at­ed as one of the top five tran­si­tions in the world. How is it pos­si­ble that since the vic­to­ry of Pra­wo i Spraw­iedli­wość (PiS, Law and Jus­tice) in the 2015 pres­i­den­tial and par­lia­men­tary elec­tions the news about Poland have changed so dras­ti­cal­ly? Cur­rent­ly the top­ics asso­ci­at­ed with Poland include the cri­sis of the Con­sti­tu­tion­al Court, the con­tro­ver­sy over restric­tions of abor­tion laws, the tur­moil over cut­ting trees in the primeval wood­lands of Białowieża For­est, and the purges in the state-owned-com­pa­nies and pub­lic media.
The begin­ning of "us ver­sus them"
PiS, the win­ner of the 2015 nation­al elec­tion, is not a new­com­er to Pol­ish pol­i­tics. The par­ty cur­rent­ly chaired by Jarosław Kaczyńs­ki has its roots in Sol­i­dar­i­ty, a polit­i­cal move­ment unique to Cen­tral and East­ern Europe. As a rep­re­sen­ta­tive of inde­pen­dent trade unions, Sol­i­dar­i­ty emerged in oppo­si­tion to the com­mu­nist regime in the 1980s. The rep­re­sen­ta­tives of the move­ment played a cru­cial role in the Pol­ish tran­si­tion to democ­ra­cy, which start­ed with the Round Table talks between them and the regime pow­ers. Two sides of polit­i­cal con­flict emerged from these nego­ti­a­tions: the old regime bloc and the Sol­i­dar­i­ty-based bloc.[1] As a con­se­quence, the most influ­en­tial par­ties of the past twen­ty years are either root­ed in Sol­i­dar­i­ty – PiS and Plat­for­ma Oby­wa­tel­s­ka (PO, Civic Plat­form) – or post-com­mu­nist milieus – Sojusz Lewicy Demokraty­cznej (SLD, Demo­c­ra­t­ic Left Alliance) and Pol­skie Stron­nict­wo Ludowe (PSL, Pol­ish People's Par­ty). In Poland, this axis from Sol­i­dar­i­ty to "non-Sol­i­dar­i­ty" sub­sti­tutes the tra­di­tion­al West­ern left-right cleav­age.[2]
Why is it dif­fi­cult to talk about the left and right in Poland?
In many coun­tries in Europe the indus­tri­al rev­o­lu­tion led to an organ­i­sa­tion of par­ty com­pe­ti­tion around the left-right axis cen­tred on eco­nom­ic issues. In the Czech Repub­lic, for exam­ple, where a high lev­el of indus­tri­al­i­sa­tion occurred, par­ty com­pe­ti­tion was one-dimen­sion­al along the eco­nom­ic left-right divide for a long time [3] and the Com­mu­nist Par­ty had a strong back­ing in the soci­ety. The Pol­ish case is dif­fer­ent: an extreme­ly low lev­el of indus­tri­al­i­sa­tion in the 1920s meant that the clas­si­cal cleav­age of work­ers against own­ers did not play an impor­tant role in par­ty devel­op­ment. For this rea­son, the Com­mu­nist Par­ty in Poland was very weak [4] and the Sovi­ets had to impose com­mu­nism on the Pol­ish soci­ety after the WWII.
Today, the polit­i­cal left-right com­pe­ti­tion in Poland is based on an "axis of val­ues" – the strug­gle of "sym­bol­ic left and sym­bol­ic right". The left in Poland is tak­en up by the post-com­mu­nist par­ties (still asso­ci­at­ed with the com­mu­nist regime); the right, on the oth­er hand, is tied to reli­gious and tra­di­tion­al­ist anti-com­mu­nist groups (which include both PiS and its com­peti­tor PO).
Shifts in polit­i­cal sup­ply and demand
Recent­ly, how­ev­er, there has been a change: increas­ing­ly not only par­ties and vot­ers chal­lenge the inter­pre­ta­tion of the "right-left con­flict", also the uni­ty of the anti-com­mu­nist coali­tion is under pres­sure. Since the mid-2000s, Pol­ish pol­i­tics is increas­ing­ly dom­i­nat­ed by the cleav­age between the "sec­u­lar lib­er­al cos­mopoli­tans" and "reli­gious author­i­tar­i­an nation­al­ists",[5] sim­i­lar to what polit­i­cal sci­en­tists call the GAL (green/alternative/libertarian) and TAN (traditional/authoritarian/nationalist) dimen­sion of the polit­i­cal spec­trum.[6] This shift is facil­i­tat­ed by the estab­lish­ment of sev­er­al new par­ties, such as Ruch Paliko­ta (now Twój Ruch) and Razem. These did not emerge from either old com­mu­nist elites or Sol­i­dar­i­ty and rep­re­sent a cul­tur­al alter­na­tive to the Catholic-con­ser­v­a­tive ideas of both PO (Civic Plat­form) and PiS (Law and Jus­tice). One of these new sec­u­lar and pro­gres­sive par­ties, .Nowoczes­na (.Mod­ern), got into the par­lia­ment in 2015 elec­tion with 7.6 % of the vote. On the oppo­site side, a new patri­ot­ic anti-estab­lish­ment play­er, Kukiz'15, got 8.8 % of the vote, win­ning most sup­port among the youngest (18–29).
The sec­ond major shift is fuelled by an inter­nal con­flict with­in the anti-com­mu­nist camp. Ini­tial­ly the pro­grammes of PO and PiS did not dif­fer rad­i­cal­ly. Through­out the last three par­lia­men­tary terms, how­ev­er, PO estab­lished itself as a pro-Euro­pean, mod­ernising, and less con­ser­v­a­tive (some refer to it as "per­mis­sive") par­ty, and PiS as the defend­er of sov­er­eign­ty with patri­ot­ic, nation­al­is­tic, and Catholic views. And although this seems to fit into the pat­tern of the GAL vs TAN dis­tinc­tion, the recent con­flict has one addi­tion­al divi­sive line—the eval­u­a­tion of the tran­si­tion process and its effects.
PiS's cur­rent line of attack on PO and oth­er tra­di­tion­al polit­i­cal forces is to dis­cred­it the semi-free elec­tions of 4 June 1989, the hero of Solidarity—Lech Wałęsa, the nego­ti­at­ed tran­si­tion in gen­er­al, and the inte­gra­tion of Poland into the EU. To what extent this divi­sion con­sti­tutes a base for a new coali­tion or just a new way to sig­nal belong­ing to the old one is not yet clear.
Why PiS now?
PiS won the par­lia­men­tary elec­tion in 2005 and ruled until 2007, when the Par­lia­ment was dis­solved due to cor­rup­tion scan­dals of the junior part­ners in the PiS gov­ern­ment. PO, chaired by Don­ald Tusk, tri­umphed in the ear­ly elec­tions and has been rul­ing as a major coali­tion part­ner between 2007 and 2015. In this peri­od, the most impor­tant eco­nom­ic indi­ca­tors were all show­ing pos­i­tive trends (increas­ing GDP per capi­ta and decreas­ing unem­ploy­ment), and Poland was the only coun­try in the EU that resist­ed reces­sion caused by the eco­nom­ic cri­sis of 2008. On the basis of these results, PO's vic­to­ry in the 2015 elec­tion seemed like a log­i­cal pre­dic­tion. So what went wrong?
Polit­i­cal ana­lysts name sev­er­al fac­tors that stand behind the over­whelm­ing vic­to­ry of PiS in 2015. PiS ran a skil­ful elec­toral cam­paign that removed the less pop­u­lar chair­man of the par­ty from the front­line and intro­duced new faces as elec­toral can­di­dates (Andrzej Duda and Bea­ta Szy­dło).[7] Also, the par­ty cre­at­ed a cli­mate of dis­trust and sus­pi­cion with exag­ger­at­ed tape scan­dals involv­ing politi­cians of its main com­peti­tor PO and with con­spir­a­cy the­o­ries about the pres­i­den­tial plane crash in Smoleńsk in 2010. In addi­tion, PiS used the rhetoric spread­ing fear of 'islami­sa­tion' of Pol­ish soci­ety, link­ing it to the EU's refugee poli­cies. Final­ly, the par­ty might have attract­ed vot­ers by its promise of a month­ly 500 zło­ty ben­e­fit for each child.
Yet, there is a more straight­for­ward expla­na­tion of the PiS vic­to­ry than pop­ulist appeals to what­ev­er peo­ple want to hear. First of all, only 51 % of Poles vot­ed in the 2015 par­lia­men­tary elec­tion. If only half of the peo­ple with the right to vote expressed their pref­er­ences in elec­tions, it is very tricky to make state­ments about larg­er social process­es on the basis of their results. More­over, because of the thresh­old of 5 % for par­ties and 8 % for coali­tions, 16 % of votes cast for the small­er and new par­ties did not count towards the final dis­tri­b­u­tion of seats in par­lia­ment. Many of these "wast­ed" votes were cast for par­ties empha­sis­ing issues that were neglect­ed by PO, such as civ­il part­ner­ships, LGBT rights, envi­ron­ment pro­tec­tion, and improve­ment of health care and edu­ca­tion. Both the neg­li­gence of half of the Pol­ish elec­torate and the elec­toral sys­tem worked in favour of PiS in this elec­toral round.
What's on the horizon?
Some of the con­tro­ver­sial poli­cies of PiS faced reg­u­lar mass protest. The dan­ger is that the protests con­tin­ue to find sup­port­ers main­ly in large cities among the mid­dle-class, high­ly edu­cat­ed parts of the pop­u­la­tion, while PiS will use the next years in pow­er to polar­ize Pol­ish soci­ety. PiS tries to strength­en loy­al­ty among its coali­tion part­ners with the rhetoric of divi­sion between good sort against "worst sort of Poles", and with pro­vid­ing access to state rents and benefits.
With nation­al and inter­na­tion­al observers wor­ried about the rise of pop­ulism in Europe and the state of democ­ra­cy in Poland, two final points seem of gen­er­al impor­tance. First, pop­ulism led to a fur­ther decline of the impor­tance of par­ty pro­grammes in elec­tions (espe­cial­ly along the left-right or any polit­i­cal scale for that mat­ter). More­over, it became a stan­dard, rather than the excep­tion, to mobilise peo­ple by appeal­ing to what­ev­er seems to be in demand at a giv­en moment (be it TAN val­ues or child ben­e­fits). Sec­ond, as the exam­ple of Poland shows, demo­c­ra­t­ic elec­tions have the pow­er to legit­imise non-demo­c­ra­t­ic gov­ern­ments. Bet­ter sys­temic checks and bal­ances might pre­vent this kind of gov­ern­ments from turn­ing a democ­ra­cy into an autoc­ra­cy. If the polit­i­cal sys­tem can­not be changed with­in one par­lia­men­tary term, then vot­ers can always pun­ish the rulers for their behav­iour in the next election.
–
Hon­o­ra­ta Maze­pus has worked on her PhD the­sis at Lei­den Uni­ver­si­ty. She is inter­est­ed in what moti­vates indi­vid­u­als to approve, obey and sup­port polit­i­cal author­i­ties and insti­tu­tions. She holds an MA degree in Inter­na­tion­al Rela­tions with the focus on East­ern Europe (Uni­ver­si­ty of Poz­nan, Poland) and an MSc degree in Polit­i­cal Sci­ence Research Meth­ods (Uni­ver­si­ty of Bris­tol, UK).
Aga­ta Maze­pus is a free­lance jour­nal­ist and stu­dent of the MA Inter­na­tion­al Rela­tions joint degree pro­gram 'Europe in the Viseg­rad Per­spec­tive'. She lived and stud­ied in all four coun­tries of the Viseg­rad Group and is inter­est­ed in Cen­tral and East­ern Euro­pean his­to­ry, pol­i­tics, soci­eties, and cul­ture. Find her on Twit­ter.
Dis­claimer
The views and opin­ions expressed in this arti­cle are those of the authors.
–
[1] Woj­tasik, W. (2011) Lewica i praw­ica w Polsce: aspek­ty eko­nom­iczno-społeczne, Ofi­cy­na Wydawnicza "Human­i­tas" – Wyższa Szkoła Zarządza­nia i Mar­ketingu w Sos­now­cu, 62.
[2] Szczer­biak, A. (2003) 'Old and new divi­sions in Pol­ish pol­i­tics: Pol­ish par­ties' elec­toral strate­gies and bases of sup­port', Europe-Asia Stud­ies, 55(5), 735.
[3] See, for exam­ple: Mans­fel­dová, Z. (2013) 'The Czech Repub­lic' in Berglund, S. (ed.) The Hand­book of Polit­i­cal Change in East­ern Europe, Chel­tenham: Edward Elgar, 225.
[4] Rohrschnei­der, R. & S. White­field (2009) 'Under­stand­ing cleav­ages in par­ty sys­tems issue posi­tion and issue salience in 13 post-com­mu­nist democ­ra­cies', Com­par­a­tive Polit­i­cal Stud­ies, 42(2), 280–313.
[5] Zaryc­ki, T. (2015) 'The elec­toral geog­ra­phy of Poland: between sta­ble spa­tial struc­tures and their chang­ing inter­pre­ta­tions', Erd­kunde 69 (2), 114.
[6] Marks, G., L. Hooghe, M. Nel­son, and E. Edwards (2006) 'Par­ty Com­pe­ti­tion and Euro­pean Inte­gra­tion in the East and West: Dif­fer­ent Struc­ture, Same Causal­i­ty', Com­par­a­tive Polit­i­cal Stud­ies, 39 (2), 155– 175.
[7] Markows­ki, R. (2016) 'The Pol­ish par­lia­men­tary elec­tion of 2015: a free and fair elec­tion that results in unfair polit­i­cal con­se­quences', West Euro­pean Pol­i­tics (in press).
–
Pic­ture: 'ProDe­mo Ral­ly' (Byd­goszcz, 19 Decem­ber 2015) by Jaap Arriens, Flickr, released under Cre­ative Commons.