Split between openness and fear for the future
By Fed­eri­co Quadrelli.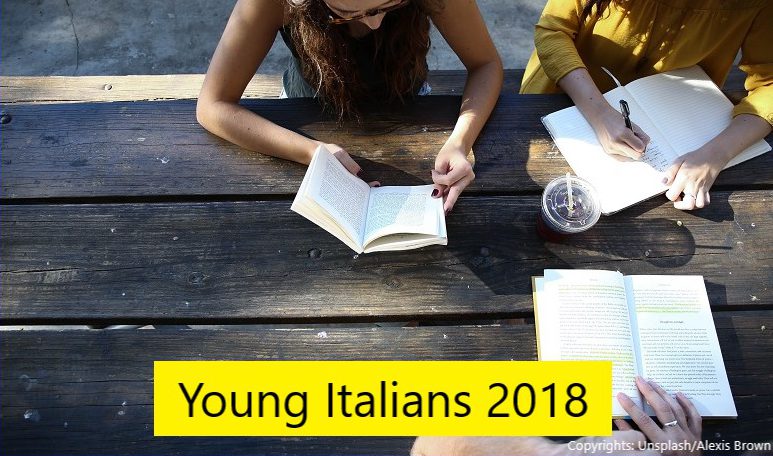 Research by the Open Soci­ety Euro­pean Pol­i­cy Insti­tute and d|part reveals that con­cern about their eco­nom­ic secu­ri­ty is the main rea­son why young Ital­ians have turned towards pop­ulist rhetoric.
Unem­ploy­ment in Italy has risen dra­mat­i­cal­ly since the 2008 eco­nom­ic cri­sis, espe­cial­ly among young peo­ple. The per­cent­age of NEET (Not Engaged in Edu­ca­tion, Employ­ment or Train­ing) has reached 26 per­cent. The feel­ing of frus­tra­tion, alien­ation and mis­trust is overwhelming.
Soci­ol­o­gist Fran­co Fer­rarot­ti and philoso­pher Umber­to Gal­im­ber­ti write about 15–25-year-olds as a lost gen­er­a­tion who feel like social out­casts, aban­doned by the country's insti­tu­tions and its pol­i­tics. Far-right move­ments and par­ties, like Lega, the Fratel­li d'I­talia (FdI) and M5S, have cap­i­talised on these fears and stoked anger by using xeno­pho­bic lan­guage to win their votes.
What does this mean for the open society's future in Italy? Was it the anti-immi­grant rhetoric that led young Ital­ians to vote for right-wing par­ties in the March 4, 2018 elec­tions? Has racism com­bined with the eco­nom­ic sit­u­a­tion and high lev­els of unem­ploy­ment and fear for the future pushed young Ital­ians to the polit­i­cal extreme right?
Pes­simism, fear and racism
Italy's mil­len­ni­als face great eco­nom­ic and polit­i­cal uncer­tain­ty. The research insti­tute Demos&Pi says Ital­ians aged between 25 and 36 feel very much on their own and have lit­tle faith in the future. Younger Ital­ians aged 15–24 are more like­ly to think pos­i­tive­ly, although when asked how they see their future in Italy, 70 per­cent answer they will need to leave to have a suc­cess­ful career.
On migra­tion, Demos&Pi has shown that 20 per­cent of respon­dents aged 15 to 24 and 31 per­cent aged 25 to 36 see migrants as a threat, and of course that's par­tic­u­lar­ly par­tic­u­lar­ly true of those who vot­ed for Lega or M5S. The nation­al research insti­tute Demopo­lis found that the Lega and M5S anti-immi­grant and anti-Euro­pean rhetoric was par­tic­u­lar­ly per­sua­sive for the under 40s.
In 2010, La Repub­bli­ca report­ed on a study by the Ital­ian Par­lia­ment that revealed a quar­ter of respon­dents aged 18 to 29 as xeno­pho­bic, and par­tic­u­lar­ly intol­er­ant of Sin­ti, Roma and Alba­ni­ans. The study con­clud­ed that the rel­a­tive­ly low fig­ure of 10 per­cent of young Ital­ians could be defined as racist, with many more pes­simistic and hos­tile to for­eign­ers in gen­er­al. Research by Osser­va­to­rio Gio­vani in 2016 con­firmed this finding.
More recent­ly, inter­na­tion­al research by Ipsos for the project More in Com­mon found that a large pro­por­tion of Ital­ians belong to the "uncer­tain cen­tre". Researcher Antonel­la Napoli­tano explains that these are peo­ple who don't espouse closed soci­ety val­ues in the same way as nation­al­ists, but are scep­ti­cal of cos­mopoli­tan open­ness. They show a "dif­fused dis­sat­is­fac­tion with the sta­tus quo, a deep mis­trust of elites, and a sig­nif­i­cant num­ber believe that glob­al­i­sa­tion has made them worse off". "Hos­tile nation­al­ists", on the oth­er hand, make up no more than 7 per­cent of those surveyed.
Behind the easy labels
The data col­lect­ed for the Voic­es on Val­ues sur­vey sug­gest there are no sig­nif­i­cant dif­fer­ences among age groups in how they feel about open soci­ety val­ues (Fig­ure 1), like free­dom of expres­sion, minor­i­ty rights and free­dom of reli­gion. These are con­sid­ered more impor­tant for a good soci­ety than closed soci­ety attrib­ut­es like "same sex cou­ples don't kiss in pub­lic" or "as few immi­grants as pos­si­ble should come to the country".
Open soci­ety val­ues are rat­ed more high­ly by all age groups, with only a small dif­fer­ence between the 18–24s and the over 65s, with sim­i­lar small dif­fer­ences for closed soci­ety views. Age thus has lit­tle impact on Ital­ian respon­dents' allegiances.
Fig­ure 1. Impor­tance of open and closed soci­ety attrib­ut­es by age group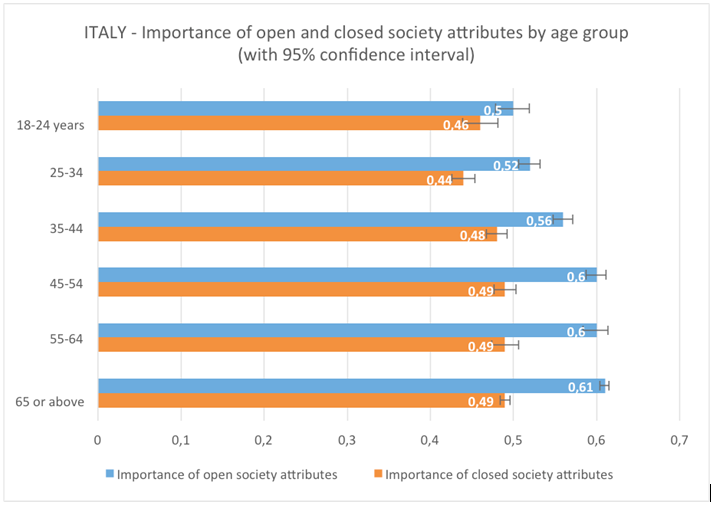 The trade-off exper­i­ments there­fore pro­vides a deep­er under­stand­ing of how impor­tant open soci­ety val­ues are in Italy. Respon­dents were asked to choose between open soci­ety state­ments and oth­ers that would restrict these free­doms.
In fig­ure 2 the state­ment asks if equal treat­ment of new­com­ers is more, equal­ly or less impor­tant than their own eco­nom­ic well­be­ing. The sec­ond state­ment in fig­ure 3 oppos­es the equal treat­ment of new­com­ers with the pro­tec­tion of social cohesion.
All the age groups were very will­ing to choose one val­ue over the oth­er, with minor dif­fer­ences between the 18–24s and the oth­ers. Because eco­nom­ic well­be­ing is often con­sid­ered more impor­tant than the equal treat­ment of migrants, this should be seen in the con­text of the eco­nom­ic cri­sis and the result­ing inse­cu­ri­ties. It sug­gests that inse­cu­ri­ty still plays a sig­nif­i­cant role in the minds of young Ital­ians, and strong­ly influ­ences how they see view soci­ety and what they believe is impor­tant for a good society.
In fig­ure 3, the youngest group of Ital­ians appears to favour social cohe­sion over the equal treat­ment of new­com­ers, con­firm­ing that eco­nom­ic con­cerns are why young Ital­ians choose their own well­be­ing over the equal treat­ment of new­com­ers, rather than for rea­sons of racism or xenophobia.
Fig­ure 2. Equal treat­ment or eco­nom­ic wellbeing?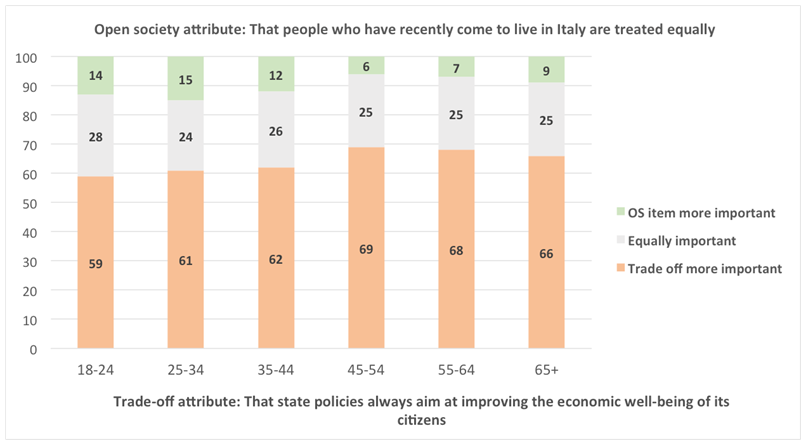 Fig­ure 3: Equal treat­ment or social cohesion?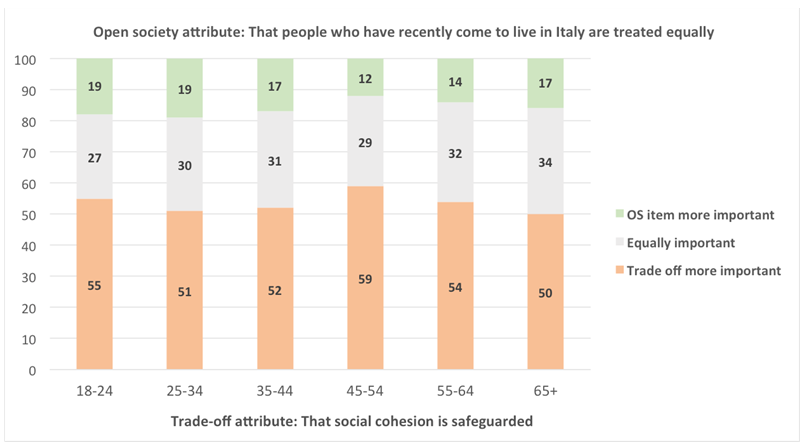 It's eco­nom­ic uncer­tain­ty and fear, not sim­ply racism
The data above shows that young Ital­ians share the same world­view as their par­ents and grand­par­ents. They con­sid­er social cohe­sion and eco­nom­ic well­be­ing to be more impor­tant than the equal treat­ment of peo­ple recent­ly set­tled in in Italy.
Although seri­ous­ly affect­ed by the eco­nom­ic cri­sis and increas­ing­ly exposed to anti-immi­grant pub­lic dis­course, young Ital­ians still care more than old­er age groups about the equal treat­ment of new­com­ers. This is in spite of a sense of inse­cu­ri­ty that has become so deeply root­ed that many young peo­ple find it hard imag­ine a pos­i­tive future, not least because far-right and pop­ulist par­ties cap­i­talise on these fears.
What does this mean for the open soci­ety in Italy? The sub­stan­tial num­bers of young Ital­ians who have vot­ed for far-right par­ties not only reflects racism, but is also close­ly linked to feel­ings of injus­tice and inequal­i­ty and a sense of being aban­doned by the polit­i­cal elites. All this adds up to a grow­ing feel­ing of alienation.
Although they offer grounds for con­cern about the future of the open soci­ety in Italy, these results also sug­gest that most young peo­ple are not racist or xeno­pho­bic per se, but have found in right-wing pol­i­tics an out­let for their fears, anger and frus­tra­tion. They hold past gov­ern­ments and polit­i­cal elites respon­si­ble for their wor­ries, and there­fore embrace the aggres­sive, anti-estab­lish­ment rhetoric of right-wing and pop­ulist par­ties, like M5S and Lega. The chal­lenge for the future of the open soci­ety is to improve the eco­nom­ic prospects of young peo­ple so as to grad­u­al­ly restore their trust in the polit­i­cal system.
–
Fed­eri­co Quadrel­li is a Research Fel­low at CILD.
Dis­claimer:
The views and opin­ions expressed in this arti­cle are those of the author.