The Dutch Freedom Party: A one-man show
By Char­lotte de Roon.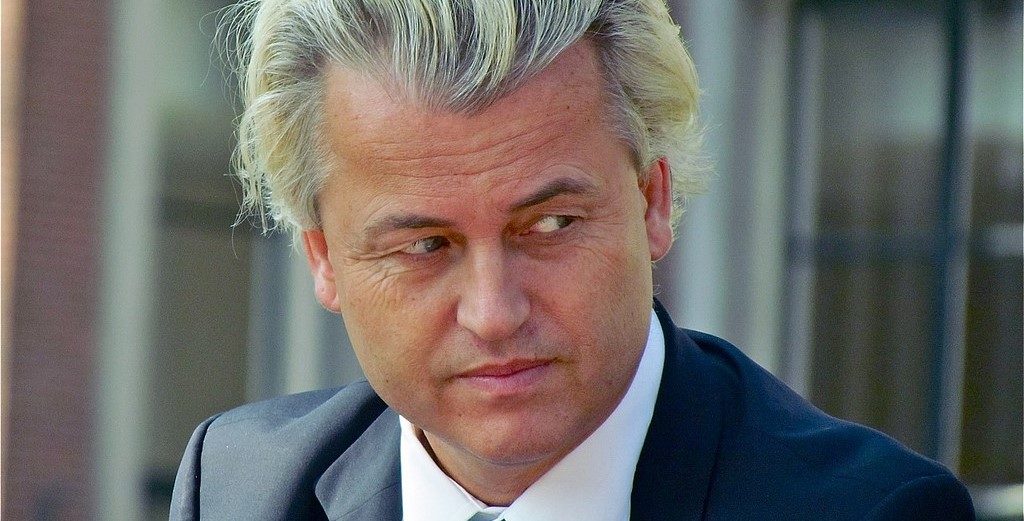 For a while now, Dutch pol­i­tics is being rocked by a new par­ty on the scene: the Par­ty for Free­dom (Dutch: Par­tij voor de Vri­jheid, PVV). We can also call it the polit­i­cal par­ty of Geert Wilders, one of the most vis­i­ble Dutch politi­cians — nation­al­ly and inter­na­tion­al­ly. The PVV draws a lot of atten­tion with its con­tro­ver­sial state­ments. But in the amidst of all the atten­tion for the PVV, there is a remark­able aspect to the par­ty that should also draw atten­tion if not imme­di­ate con­cern: its lack of inter­nal orga­ni­za­tion. The ques­tion is to what extent the par­ty orga­ni­za­tion of the PVV cor­re­sponds to our con­tem­po­rary demo­c­ra­t­ic views and ideas.
About the Dutch Free­dom Party
First, some facts on the PVV. The par­ty was found­ed in 2005 by its polit­i­cal leader Geert Wilders, a 53-year-old most­ly known for his blond hair­do and fierce state­ments on inflam­ma­to­ry themes such as the Islam and the Euro­pean Union. He is often placed in the same cat­e­go­ry as Marine Le Pen in France, Frauke Petry in Ger­many, and Nigel Farage in the UK. Wilders has a long expe­ri­ence in the Dutch House of Rep­re­sen­ta­tives: in 1998 he first became a mem­ber of par­lia­ment (MP) for the con­ser­v­a­tive-lib­er­al People's Par­ty for Free­dom and Democ­ra­cy (Volkspar­tij voor Vri­jheid en Democ­ra­tie – VVD). In the nation­al elec­tions of 2010, the PVV increased its base from 5.9 per­cent to 15.5 per­cent, although in 2012 this decreased to 10 per­cent. The par­ty cur­rent­ly has fif­teen seats in the House of Rep­re­sen­ta­tives. Polls for elec­tions in March 2017 look promis­ing for the PVV, as it would now become one of the country's biggest parties.
Schol­ars seem to agree that the PVV is the most impor­tant pop­ulist par­ty in the Nether­lands, as it com­bines anti-elit­ist posi­tions "with a vehe­ment anti-immi­grant (anti-Islam) and law and order dis­course, which places [the PVV] solid­ly with­in the cat­e­go­ry of the pop­ulist rad­i­cal right" [1]. Its sym­pa­thiz­ers are a diverse group, although most­ly low-skilled and liv­ing in the sub­urbs or the south of the Nether­lands.
A one-mem­ber party
So what? you may ask, since the PVV is not the first pop­ulist par­ty in the Nether­lands nor the first par­ty with an anti-Islam­ic or anti-EU rhetoric. Well, this is the inter­est­ing part: the PVV only has one offi­cial mem­ber, Geert Wilders. There is no room for offi­cial mem­bers or con­ven­tions, nor are there local chap­ters or orga­ni­za­tions. Sym­pa­thiz­ers can only con­tribute finan­cial­ly. Wilders is the only one who has a for­mal say in the cre­ation of the par­ty pro­gram, can­di­date list, coali­tion nego­ti­a­tions, and any oth­er par­ty affairs. In 2010, Hero Brinkman, a MP for the PVV since 2006, cam­paigned to turn the PVV into a par­ty with for­mal mem­bers, an annu­al con­fer­ence and a youth wing. But he did not suc­ceed. Two years lat­er, Brinkman decid­ed to quit the PVV, main­ly because of the demo­c­ra­t­ic deficit with­in the orga­ni­za­tion. This episode made clear that Wilders refus­es to democ­ra­tize his par­ty, lead­ing to heavy crit­i­cism. The PVV is a 'one-man show'. Accord­ing­ly, Wilders is depict­ed as a dic­ta­to­r­i­al ruler of his own per­son­al realm, con­trol­ling and dom­i­nat­ing his fel­low mem­bers of parliament.
What does this mean for democracy?
Para­dox­i­cal­ly, while the PVV is oper­at­ing in a demo­c­ra­t­ic con­sti­tu­tion­al state and advo­cates demo­c­ra­t­ic legit­i­ma­cy in nation­al and EU insti­tu­tions, the par­ty itself is unde­mo­c­ra­t­ic in its inter­nal struc­tures. Its closed par­ty orga­ni­za­tion pre­vents any form of demo­c­ra­t­ic account­abil­i­ty, respon­sive­ness and legit­i­ma­cy towards its con­stituen­cy and soci­ety as a whole. The impor­tance of par­ty mem­bers [2] rests, among oth­ers, on their con­tri­bu­tion to the polit­i­cal legit­i­ma­cy of the polit­i­cal par­ty and the account­abil­i­ty of the par­ty lead­ers and gov­ern­ment. Inter­nal demo­c­ra­t­ic struc­tures, in turn, make sure that these mem­bers have the oppor­tu­ni­ty to express their opin­ion in deci­sion-mak­ing process­es. More­over, these struc­tures may fos­ter polit­i­cal skills and demo­c­ra­t­ic val­ues and strength­en the link­age between pol­i­tics and soci­ety. In order to pro­tect basic demo­c­ra­t­ic val­ues and pro­ce­dures, some democ­ra­cies estab­lish a leg­isla­tive mech­a­nism to ban par­ty mod­els like that of the PVV. For instance, in Ger­many the par­ty law (Parteienge­setz) requires, among oth­ers, a demo­c­ra­t­ic struc­ture and a min­i­mum num­ber of mem­bers [3]. This prin­ci­ple under­lines that democ­ra­cies and polit­i­cal par­ties are inter­de­pen­dent in such a way, that par­ties need to adhere to inter­nal and exter­nal demo­c­ra­t­ic prac­tices and procedures.
No youth wing, no youth participation
In clos­ing, let's zoom in on a spe­cif­ic orga­ni­za­tion­al char­ac­ter­is­tic Geert Wilders refus­es to adopt for the PVV: a par­ty youth wing. Wilders' main argu­ment for not hav­ing a par­ty youth wing is that it would pos­si­bly attract rad­i­cal youth. On the one hand, Wilders might have a point with this argu­ment: youth wings are well-known for their func­tion as 'nec­es­sary irri­tant' or 'grind­stone' of the moth­er par­ty. But, on the oth­er hand, polit­i­cal par­ties also have a demo­c­ra­t­ic duty in offer­ing young peo­ple the pos­si­bil­i­ty to edu­cate and social­ize them­selves in pol­i­tics. Espe­cial­ly in the case of young peo­ple, we know that there are cer­tain chal­lenges in engag­ing them in for­mal pol­i­tics. Par­ty youth wings can act as impor­tant polit­i­cal inter­me­di­aries and schools of democ­ra­cy for the young. It is a pre-emi­nent place where young peo­ple can be exposed to het­ero­ge­neous points of view and can be moti­vat­ed to deal with social issues and take a stand. This way, rad­i­cal views might be tem­pered. More­over, for the par­ty itself a par­ty youth wing can be a way to ensure con­ti­nu­ity. This might be of par­tic­u­lar impor­tance for the PVV, which is high­ly depen­dent on its leader, thus risk­ing a col­lapse as soon as this leader dis­ap­pears. Although, as long as the PVV does not adhere to any demo­c­ra­t­ic prac­tices, the ques­tion is how bad that would be.
–
Char­lotte de Roon is cur­rent­ly work­ing at the Dual PhD Cen­tre of Lei­den Uni­ver­si­ty. As a PhD can­di­date, she is inter­est­ed in the polit­i­cal par­tic­i­pa­tion of young peo­ple and the role of demo­c­ra­t­ic orga­ni­za­tions as polit­i­cal inter­me­di­aries and incu­ba­tors of polit­i­cal engage­ment. She holds an MSc degree in Social Psy­chol­o­gy as well as in Pub­lic Administration.
[1] Agnes Akker­man, Cas Mud­de, and Andrej Zaslove, "How Pop­ulist Are the Peo­ple? Mea­sur­ing Pop­ulist Atti­tudes in Vot­ers," Com­par­a­tive Polit­i­cal Stud­ies 47, no. 9 (2014): 1324–1353. Via this link.
[2] Although this is a much-dis­cussed topic.
[3] Nicole Berbuir, Mar­cel Lewandowsky and Jas­min Siri, "The AfD and its Sym­pa­this­ers: Final­ly a Right-Wing Pop­ulist Move­ment in Ger­many?" Ger­man Pol­i­tics 24, no. 2 (2015): 154–178. Via this link.
–
Pic­ture: Wilders: Luc­tor et Emer­go, 29 March 2012, cour­tesy of Roel Wij­nants (own work), released under Cre­ative Commons.