Young Europeans are a political mosaic
By Jan Eich­horn.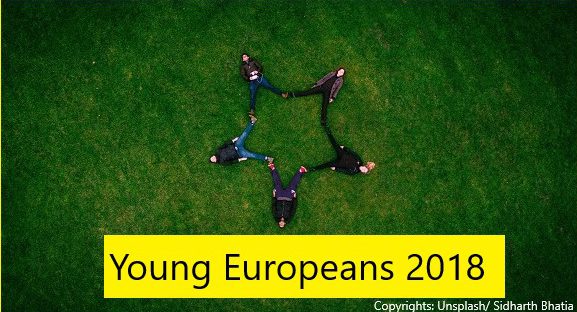 Are young Euro­peans swing­ing towards or away from open soci­ety val­ues? Aver­ag­ing out dif­fer­ent nation­al respons­es to some search­ing ques­tions that will affect Europe's future pol­i­tics has proved decep­tive. Coun­try-by-coun­try analy­sis reveals sig­nif­i­cant divergences.
When respons­es to the Voic­es on Val­ues sur­vey by the Open Soci­ety Euro­pean Pol­i­cy Insti­tute and d|part were aver­aged out, young peo­ple in Ger­many, France, Greece, Italy, Poland and Hun­gary were found to hold luke­warm views, not shar­ing the firmer open or closed soci­ety opin­ions of old­er gen­er­a­tions. But clos­er inspec­tion revealed marked nation­al differences.
Young Ger­mans expect gov­ern­ment to ensure sta­bil­i­ty, young Poles care more about their own mate­r­i­al well­be­ing, and young Greeks are marked­ly more open-mind­ed than their country's old­er gen­er­a­tions. What does this polit­i­cal mosa­ic mean for Europe's future?
Stances on free­dom of expres­sion, the account­abil­i­ty of gov­ern­ment, and jus­tice and equal­i­ty point to where young peo­ple stand polit­i­cal­ly. But these posi­tions are often so com­plex they risk mis­rep­re­sen­ta­tion by naive or sim­plis­tic inter­pre­ta­tions of open soci­ety val­ues. Many social posi­tions are not mutu­al­ly exclu­sive: peo­ple who con­ser­v­a­tive­ly val­ue eco­nom­ic sta­bil­i­ty can also defend open soci­ety values.
A series of arti­cles on the respons­es of 18-to-24-year-olds found that although on aver­age they were less com­mit­ted to both open and closed soci­ety val­ues, when each coun­try was stud­ied sep­a­rate­ly the views of young peo­ple var­ied con­sid­er­ably. These incon­sis­ten­cies sug­gest a future in which polit­i­cal debates in each coun­try will be very different.
In France, young peo­ple tend to hold more lib­er­al views than their elders, yet some sup­port ideas that are not tra­di­tion­al­ly open soci­ety val­ues, and even run counter to them. A good exam­ple is their com­mon oppo­si­tion to immigration.
Per­haps because recent immi­gra­tion has exposed so many young Greeks to greater diver­si­ty at home, when asked to define a "good soci­ety", their replies were marked­ly dif­fer­ent from old­er gen­er­a­tions' more nation­al­is­tic views. Their expo­sure to more lib­er­al ideas has made them far less hos­tile to immi­grants, and more relaxed about free­dom of religion.
In Italy, the eco­nom­ic cri­sis has deeply affect­ed atti­tudes among the young. The 18-to-24-year-olds were the least enthu­si­as­tic about open soci­ety val­ues. Per­haps this can be attrib­uted to wor­ries about the future more than to racism and intol­er­ance. Fear and frus­tra­tion has led many of them gen­er­al­ly to right-wing pol­i­tics, but not specif­i­cal­ly to hos­til­i­ty towards immigrants.
Young peo­ple in Poland are unhap­py with the cur­rent polit­i­cal sys­tem, yet when com­pared to the old­er gen­er­a­tions many are rel­a­tive­ly indif­fer­ent to the health of democ­ra­cy and the open soci­ety. Their top pri­or­i­ty is their own mate­r­i­al well­be­ing, although that may be chang­ing as increas­ing­ly young Poles have demon­strat­ed against recent anti-demo­c­ra­t­ic moves.
In Hun­gary, younger peo­ple are more attached than old­er Hun­gar­i­ans to such val­ues as free­dom of expres­sion, free media and polit­i­cal plu­ral­ism, but they are less con­cerned that open soci­ety val­ues are essen­tial to a good society.
In Ger­many, the young are far more like­ly than their elders to take clear-cut open soci­ety posi­tions, yet they con­sid­er gov­ern­ment sta­bil­i­ty to be more impor­tant than free­dom of expres­sion, media free­dom and polit­i­cal plu­ral­ism. Young peo­ple there tend to be split between favour­ing sta­bil­i­ty and favour­ing open­ness. Whether these are mutu­al­ly exclu­sive views remains to be seen, as many try to accom­mo­date both.
Our research under­lines the fact that young peo­ple are not a homo­ge­neous group. Their views are gen­er­al­ly dif­fer­ent from those of the old­er gen­er­a­tions, but often dif­fer from coun­try to coun­try and region to region. We should not assume that young peo­ple are more lib­er­al or less con­ser­v­a­tive every­where. A country's cul­ture, pol­i­tics and econ­o­my strong­ly colour their atti­tudes and priorities.
–
Dr Jan Eich­horn is found­ing part­ner and the Research Direc­tor of d|part.
Dis­claimer
The views and opin­ions expressed in this arti­cle are those of the author.